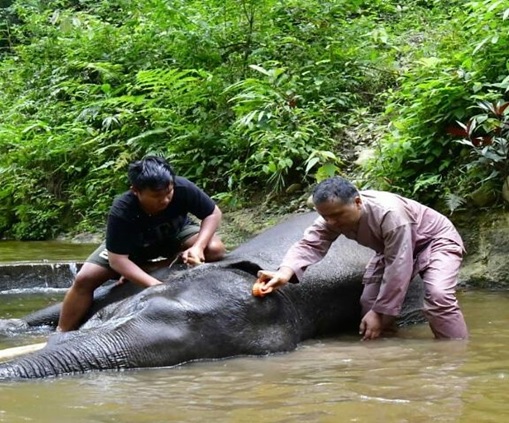 Working closely with many partners, Dr. R. Wisnu Nurcahyo of the UGM Faculty of Veterinary Medicine and his research team have developed strategies to conserve the critically endangered Sumatran elephant (Elephas maximus sumatranus).
As done together with the Veterinary Society for Sumatran Wildlife Conservation (VESSWIC), Dr. Nurcahyo and his team have improved the quality of management of tame Sumatran elephants and built a database covering individual data, medical records, disease identification, and DNA analysis.
"The Sumatran elephant, namely a subspecies of the Asian elephant, is threatened with extinction, and its population continues to decline due to various factors. Therefore, it is important to formulate efforts to protect and preserve the Sumatran elephant," said Nurcahyo, Tuesday (8/2).
The Sumatran elephant population is estimated to have decreased by about 35% from 1992, denoting an enormous decline in a relatively short period. According to the World Wildlife Fund for Nature-Indonesia (2008), the total population of Sumatran elephants is estimated at 2400-2800 individuals.
Many factors have contributed to the decline in the population, including illegal logging, habitat loss and fragmentation, and poaching. A study revealed that the online trade of elephant ivory-derived products was somewhat high, with 570 active online sellers identified in Central Java alone in 2016. Only Vietnam showed a decline in the number of elephant ivory sales in 2019 compared to Thailand and Indonesia.
In addition, human-elephant conflict due to habitat loss and fragmentation has increased over time, posing threats to human injury and death and human killing of elephants. The government addresses this problem by training tame elephants to deal with wild elephants entering settlements in conflict-prone areas.
On the other hand, taming the elephants and placing them in Elephant Training Centers will affect genetic diversity and population structure in the long term due to limited gene flow, increased genetic drift, and inbreeding.
A team of researchers from the UGM Faculty of Veterinary Medicine, the Eijkman Institute for Molecular Biology, and the University of Liege discovered that low nucleotide diversity and haplotype diversity occurred in the northern part (Aceh and North Sumatra) and the southern part of Sumatra. Tame Sumatran elephants in ex-situ conservation tend to inbreed because of their small population in the area.
"Future conservation management must include measures to maintain genetic diversity and prevent the inbreeding of the remaining Sumatran elephants," said the Chairman of the Indonesian Veterinary Parasitology Association (APARVI).
Other forms of threat come from non-communicable diseases and infectious diseases caused by bacteria, viruses, fungi, and parasites such as nematodes, trematodes, or cestodes. From a joint study of variation and analysis of tame elephant genetic data with the Eijkman Institute for Molecular Biology, Wisnu and the team found that tame Sumatran elephants are susceptible to parasitic infections due to the island's relatively high rainfall.
He pushed for more research to discover the dangers of deadly diseases that could reduce elephant populations in the wild and the Elephant Rescue Centers. Various data and information from studies conducted by UGM and partners, he continued, could be the basis for further management of tame elephants.
Author: Ika