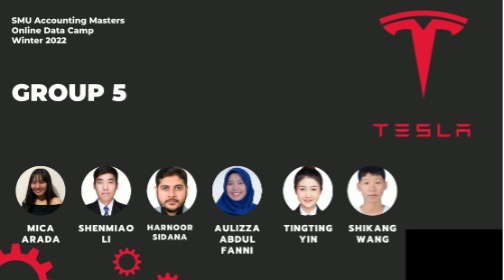 Aulizza Abdul Fanni, MSc Accounting student, won the Best Performing Group at the Accounting Masters Online Data Camp organized by the Singapore Management University (SMU) School of Accountancy in January 2022.
Fanni picked up the award for analysis and presentation on Tesla, Inc. along with team members of diverse nationalities, namely Mica Arada (Philippines), Shenmiao Li (China), Shikang Wang (China), TingTing Yin (China), and Harnoor Sidana (India).
"The presentation elaborates on the company's business canvas model, problems, solutions related to digital transformation or other strategies, and stock analysis with Python," said Fanni, Friday (18/2).
She added that the team managed to nail the presentation despite the tight preparation time due to discipline, cohesiveness, and effective communication right from the start.
"I look forward to signing up for more competitions to develop myself. Hopefully, more MSc and Doctoral students from the UGM Faculty of Economics and Business will take part in international programs and competitions," she said.
The Accounting Masters Online Data Camp is a training program that aims to introduce participants to accounting data analytics and current accounting industry trends. Besides Fanni, 50 other students and professionals from the Philippines, India, Indonesia, China, and Singapore participated in this Data Camp.
Author: Desy