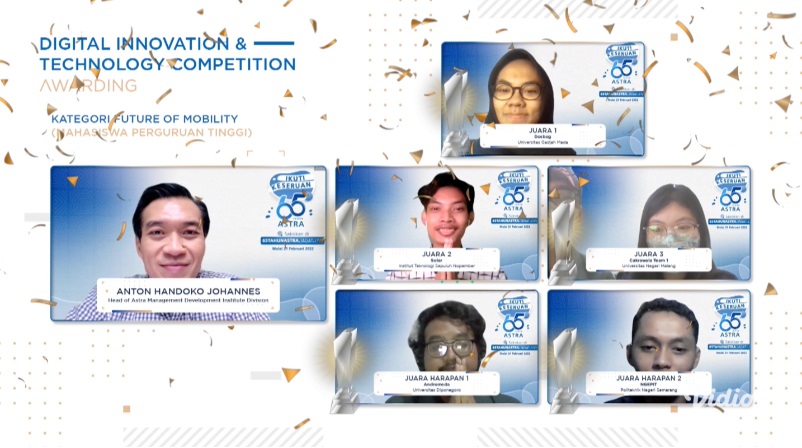 The Dosbog team of three UGM students has scooped first prize at the 2022 Digital Innovation and Technology Competition hosted by Astra International in collaboration with SRE Indonesia.
The competition that was held from December 2021 to February 2022 challenged university and high school students to submit fresh, engaging ideas in one of two categories, namely Future of Mobility and Future of Energy.
"Participants passing the abstract stage then proceed to the final. The ten shortlisted finalists were asked to present their essays, pitch decks, and prototypes. We (Dosbog) are champions in the Future of Mobility category for university students," said Alfitra Heydar Achsan (Engineering Physics), Tuesday (8/3).
Heydar teamed up with Chaesar Syaefuddin (Mechanical Engineering Technology) and Annisa Citra Gitaswari (Engineering Physics). They introduced Special Swap Battery, a smart battery-swapping station initiative to support future mobility in tourism areas.
"Special Swap Battery (SSB) is an Electric Vehicle Sharing System (EVSS) designed to facilitate the public with a battery-swapping station for users of electric bicycles or scooters. The SSB has its own charm because it prioritizes comfort and convenience for e-vehicle users," he said.
Author: Desy