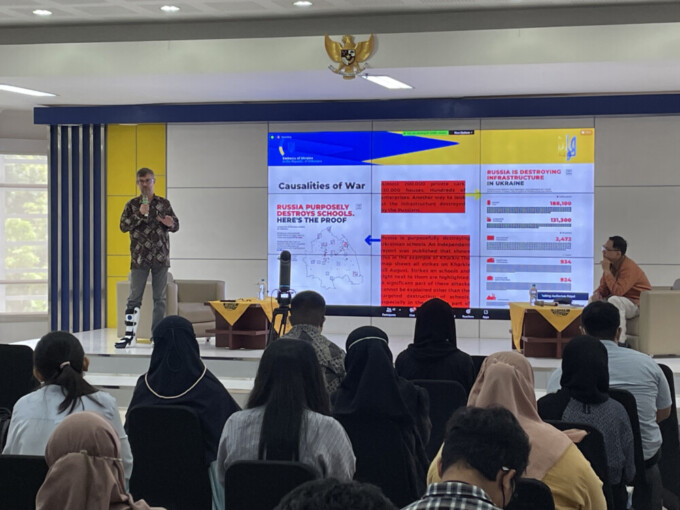 Ambassador of Ukraine to Indonesia, HE Dr. Vasyl Hamianin, delivered a lecture on the war in Ukraine at the UGM Faculty of Social and Political Sciences on Friday (23/9).
He advised students to dig deeper into the information in reports, articles, or expert speeches to prevent being misled by propaganda.
"Any matter you are observing, please dig deeper. Diplomats are people who know how to investigate and identify root causes so as not to be easily misled. The current war involves not only weapons but also propaganda," said Ambassador Vasyl.
Propaganda, he explained, always sounded beautiful and persuasive, as if presenting facts and truth. However, if people are willing to dig a little deeper, they will find it is a lie.
He said the current situation in Ukraine was something that many couldn't imagine, especially for Ukrainians themselves. Russia's aggression against Ukraine has triggered a series of crises, from logistics, finance, and food security to diplomacy.
"Only by understanding the background and root cause can we find, or at least try to find, ways to solve the problem and eliminate the threat," he said.
According to him, the background of the war in Ukraine cannot be explained in an hour or two. Reviewing the geopolitical situation and the long history behind the aggression requires a series of lectures.
Russia and Ukraine have fundamental differences in several respects, including state formation and ideology. Ukraine never had an emperor or king. All leaders are elected by the people and can be dismissed if they are deemed not to have carried out their responsibilities properly. This contrast affects the way Ukrainians perceive themselves, their country, and the reality around them.
"Ukrainians are free people. Our homeland is our soul and life, so we will not give it up easily," he said.
Vasyl explained that during Russia's aggression, tens of thousands of cases of violations of humanity had been recorded, causing a large number of victims, including the deaths of 389 children. Hundreds of thousands of infrastructure were destroyed, with some areas still under the control of Russian troops.
The Ambassador regretted that Russia did not receive sanctions commensurate with its actions. He also said that Russia's aggression might be an attempt to reconstruct the world system, which began to shift to unipolarity after the collapse of the Soviet Union.
"Unipolarity is not good. That's why we need a counter-power. But whether we want democratic values and human rights to be rivaled by dictatorships and authoritarianism, I'm sure no one will say yes," said the Ambassador.
Author: Gloria