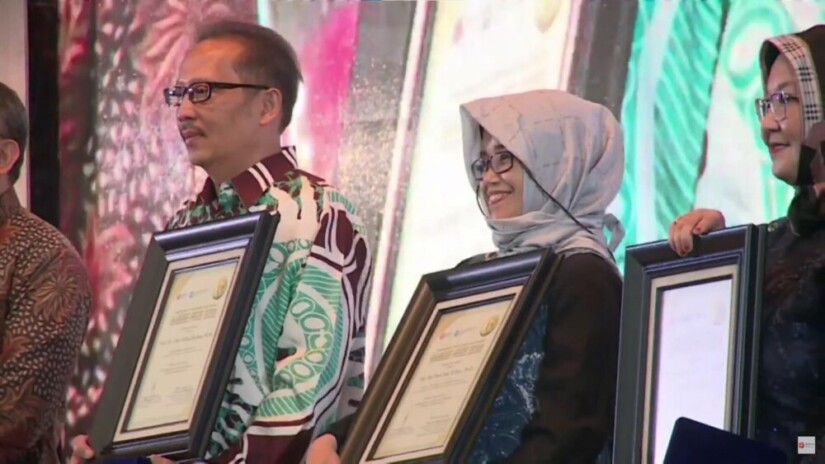 The National Research and Innovation Agency (BRIN) and the SDM-IPTEK Foundation have awarded the 2022 Habibie Prize to Dr. Ika Dewi Ana from Universitas Gadjah Mada for her contribution to medical science and biotechnology in Indonesia.
Since 1999, the Habibie Prize has recognized many Indonesian figures who have made significant contributions to the advancement of science, technology, and innovation. The award is a tribute to the late Prof. B.J. Habibie for his dedication to science and technology in the country.
"BRIN is committed to continuing Prof. Habibie's legacy with the Habibie Award, which is now called the Habibie Prize, and the spirit and inspiration he used to bring," said Chair of BRIN Dr. Laksana Tri Handoko on Thursday (10/11).
The Prize is expected to continue Prof. Habibie's hopes and aspirations to develop excellent and competitive human resources and motivate researchers, scientists, and the public to advance their respective fields for a better Indonesia.
"On behalf of BRIN, we congratulate the four recipients of the 2022 Prize. We hope this award can encourage you to make more breakthroughs and inspire the younger generation," he said.
In addition to Dr. Ika, the 2022 Habibie Prize was given to Prof. Ocky Karna Radjasa (basic science), Prof. Riri Fitri Sari (engineering science), and Naufan Noordyanto (philosophy, religion, and culture).
"Alhamdulillah, receiving this award means that I have been given trust. Every achievement helps me learn more," said Ika.
Ika Dewi Ana is a lecturer in the Department of Dental Biomedical Sciences, Faculty of Dentistry, Universitas Gadjah Mada. Two of her research works, CHA Bone Graft and CHA-based Hemostatic Sponge, have been registered and marketed in Indonesia, with two others currently being translated. Her collection of research is documented in Biokeramik dan Rekayasa Jaringan (Bioceramics and Tissue Engineering), published in 2021.
"At the time of the study, no bone grafts were made in Indonesia. Every graft we use was from abroad," said Ika.
She has also picked up many other awards before the Habibie Prize, such as the Outstanding Intellectual Property Award from the Ministry of Research, Technology, and Higher Education in 2014, the SRB Excellence Award from the Romanian Society for Biomaterials in 2016, and the Excellence Award from the International Society for Ceramics in Medicine in the same year.
Currently, Dr. Ika serves as Head of the Collaborative Center for Biomedical Scaffold Research, established by BRIN in collaboration with the Research Center for Biomass and Bioproducts, the Research Center for Metallurgy and Nanomaterials, and the Research Center for Polymer Technology.
Author: Gloria