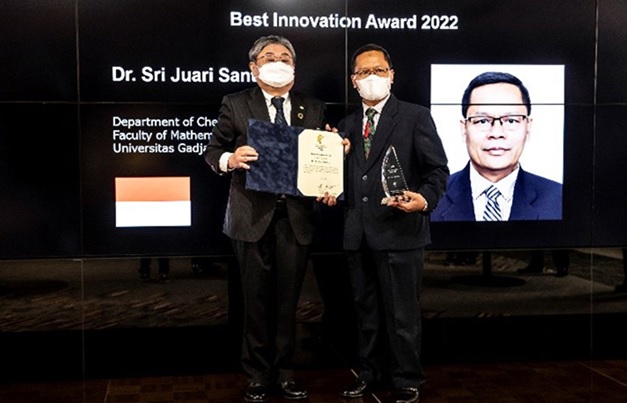 Three UGM lecturers have won awards at the 2022 Hitachi Global Foundation Asia Innovation Award for their impactful research and innovations in science and technology that contribute to realizing a sustainable society in ASEAN.
Receiving the Best Innovation Award is Prof. Sri Juari Santosa from the Faculty of Mathematics and Natural Sciences for his research on hybrid material-based adsorbents to provide safe water sources for drinking and household purposes.
He synthesized and developed hybrid magnetite and hydrotalcite (Mag-HT) as adsorbents to remove dissolved organic compounds (DOCs) in raw water for drinking water treatment. His synthesized material proved to be more effective than the long-used alum coagulant, as seen from the DOC removal results in Pontianak City, West Kalimantan Province.
As the Best Innovation Award winner, he was invited to Tokyo to attend the award ceremony on January 10, 2023, along with the winners of 2020, 2021, and 2022.
The next winner from UGM is Prof. Teuku Faisal Fathani from the Faculty of Engineering. The committee recognized his work on a low-cost and adaptive community-based multi-hazard early warning system (EWS) for disaster mitigation in Indonesia. This innovation earned him the Outstanding Innovation Award.
This EWS is made simple and adaptive to facilitate affected communities in the event of a disaster. In collaboration with disaster management agencies, universities, and the private sector, the EWS has been installed in 130 cities/districts in Indonesia, increasing the resilience and capacity of affected communities in disaster management. It has also been deployed in Myanmar and other countries.
Dr. Rimawan Pradiptyo from the Faculty of Economics and Business won the Encouragement Award for the SONJO initiative. Against the backdrop of the COVID-19 pandemic, SONJO, or Sambatan Jogja, was founded.
SONJO is an online-based social capital that uses WhatsApp groups (WAGs) to coordinate and deliver 14 health-related programs and eight economic-related programs to minimize the impact of the pandemic in Yogyakarta. This non-profit organization has made many contributions, such as promoting the development of 51 isolation shelters across three provinces, initiating mass vaccinations, and developing SMEs in Indonesia.
"Initially, SONJO was only limited to Yogyakarta, but then it grew and synergized with six companies/communities in various regions in Indonesia. Although our contribution is still limited, we want to show the good practices we have done together during the pandemic," said Rimawan on Monday (27/2).
Hitachi Global Foundation Asia Innovation Award was first introduced in 2020 to recognize individuals and groups with outstanding research and development that help deliver Sustainable Development Goals. This year's applications came from 23 universities in 6 ASEAN countries (Cambodia, Indonesia, Laos, Myanmar, Philippines, and Vietnam), whose research and development contributed to each of the selected targets of Goal 6 (Clean Water and Sanitation) and Goal 11 (Sustainable Cities and Communities).
Author: Tasya
Photo: Istimewa