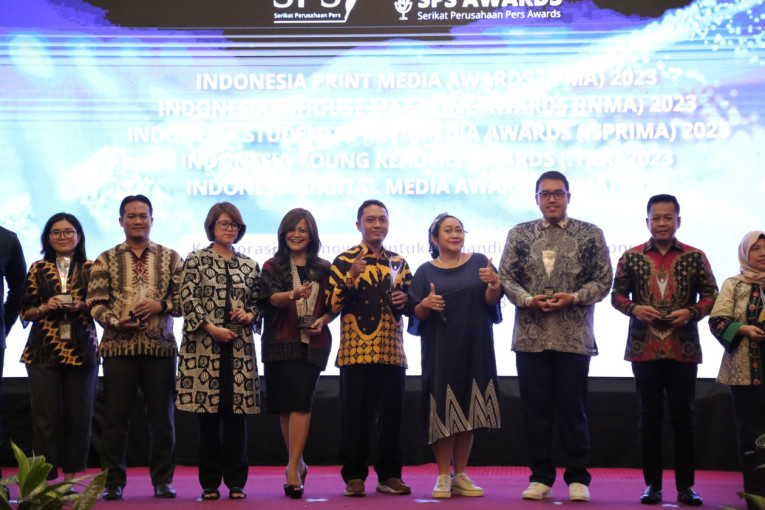 Universitas Gadjah Mada (UGM) has been presented with three awards at the 2023 Serikat Perusahaan Pers (SPS) Awards that took place at Merlynn Park Hotel Jakarta on Monday (20/3).
From all categories that received more than 900 entries from hundreds of institutions, UGM was named Indonesia Inhouse Magazine Award (InMA) Gold Winner for the Best University category for the April 2022 edition of Kabar UGM Magazine and Indonesia Digital Media Awards (IDMA) Silver Winner for the Best of University Social Media and Best of University Website categories. UGM became the top award winner for the last two classes because no other university won Gold.
Head of UGM Public Relations and Protocol, Dr. Dina W. Kariodimedjo, said she was grateful that UGM won InMA and IDMA. These awards are a form of appreciation from outside parties for the publication channels owned by UGM.
"Congratulations to the Public Relations and Protocol team that has created content and graphic design for print and online media," said Dina.
Dina said this achievement would not make the team complacent but instead motivate them to improve the delivery of good publications to the public through all channels owned by UGM.
"We will continue to improve ourselves to deliver the best information to the public through various innovations that we do," she explained.
The SPS Awards has five categories, Indonesia Print Media Award (IPMA), Indonesia Inhouse Magazine Award (InMA), Indonesia Student Print Media Award (ISPRIMA), Indonesia Young Readers Award (IYRA), and Indonesia Digital Media Awards (IDMA).
Every year, this prestigious award event for press people is attended by national and local print and online media companies and magazine and social media managers at the university level, state-owned enterprises, and private companies.
At the awarding ceremony, Serikat Perusahaan Pers chairperson Januar Primadi Ruswita said the award for press people is expected to trigger the birth of creative, innovative, and inspiring journalistic work.
"I believe that strengthening quality journalism and creative content will win the public's hearts. In fact, it will bring the media closer to readers," he said.
Author: Gusti Grehenson