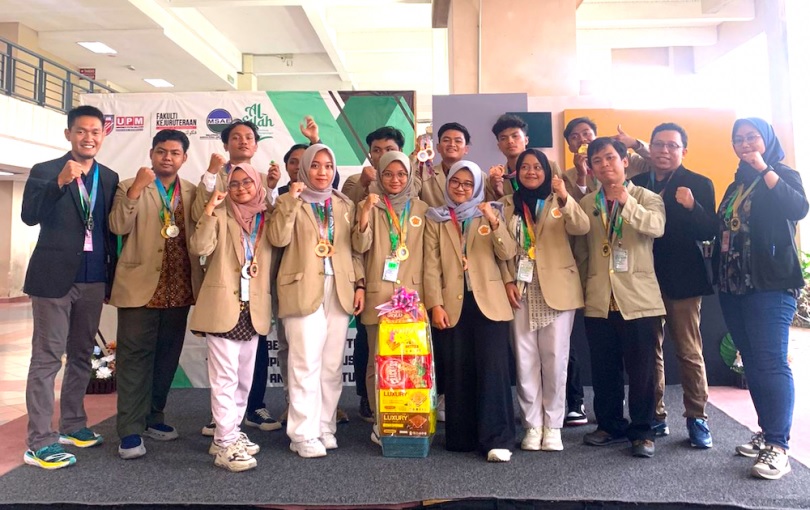 UGM Agricultural and Biosystems Engineering students have brought home eight medals from the 9th Southeast Asian Agricultural and Food Engineering Student Chapter – Annual Regional Convention (AE ARC) 2023, held from August 21 to 26 at Universitas Putra Malaysia.
In this annual meeting and competition, the UGM team won eight medals: two gold medals, two silver medals, two bronze medals, and two copper medals. This year's ASEAN ARC received participation from 33 teams from four ASEAN countries.
UGM ARC Chair and advisor Dr. Andri Prima Nugroho stated that UGM sent 12 students divided into four teams for the competition. They competed in five categories: ARC Amazing Race, AE Quiz, Multimedia Public Speaking, Innovation Competition, and Cultural Performance.
UGM Team A consisted of Dhamar Abhinawa, Muhammad Haris Yulianto, and Naufal Helmi Yumnanda, with advisor Dr. Andri Prima Nugroho. Team B was composed of Fransiskus Asisi Aditya Nico Christian, Hanif Nur Wahid, and Zuhrotul Maulidah with advisor Dr. Muhammad Khoiru Zaki. 
Team C consisted of Mutiara Alifia Ramadhanty, Asyam Safa Prabaningrum, and Reksy Cornelius Saragih with advisor Dr. Prieskarinda Lestari. Team D was made up of Asma Noor Itsnaini, Lisa Astiana Ghina Saudah, and Kevin Ezekiel Manik, with supervisor Dr. Hanggar Ganara Mawandha.
"The teams sent were selected internally, and they received intensive training to prepare the materials and equipment for the competition," he explained on Thursday (August 31).
The gold medal was achieved by Team C in the Product Innovation – Applied Technology category by presenting "Moseaf – Modified Sealed And Vacuum Silage Fermenter For Improving The Process And Quality." 
Team A secured a silver medal in the Product Innovation – AgriTools and Equipments category with "Iphoni – Simple Hydrophonic Farming."
Teams B and D won bronze in the Product Innovation – Future Technology category with "Memo's – The Agri-Invention for Repelling Pest Based on Integrated Pest Management" and "Nurtura Shelf: Micro Plant Factory to Grow Green Leaf."
In the Multimedia Public Speaking category, a prestigious academic category that offers students the opportunity to present their scientific ideas orally with multimedia support within 5 minutes, UGM achieved a gold medal (Team A), a silver medal (Team D), and First Honorable Mention (Team B). 
The public speaking competition was intense, with only the top 5 out of 33 participating teams advancing to the final round. Participants were given one hour to prepare material on a topic in the final round. 
In other categories, Cultural Performance and ARC Amazing Race, the UGM students won copper medals.
The achievements of agricultural engineering students at the AE – ARC 2023 are attributed to the full support of the Department of Agricultural and Biosystems Engineering and the Faculty of Agricultural Technology.
The Department of Agricultural and Biosystems Engineering Chair, Professor Lilik Sutiarso, congratulated and expressed pride in the students' achievements.
The Vice Dean for Academic Affairs, Professor Yudi Pranoto, also expressed that through this ASEAN-level competition, opportunities are opened for students and supervising faculty members to join off-campus activities while supporting the achievement of Key Performance Indicators 2 & 3.
"Hopefully, this victory will further enhance the spirit of achievement, competition, and the development of students' capabilities in agricultural and biosystems engineering in the national and international arena," he explained.
Author: UGM Faculty of Agricultural Technology
Editor: Ika