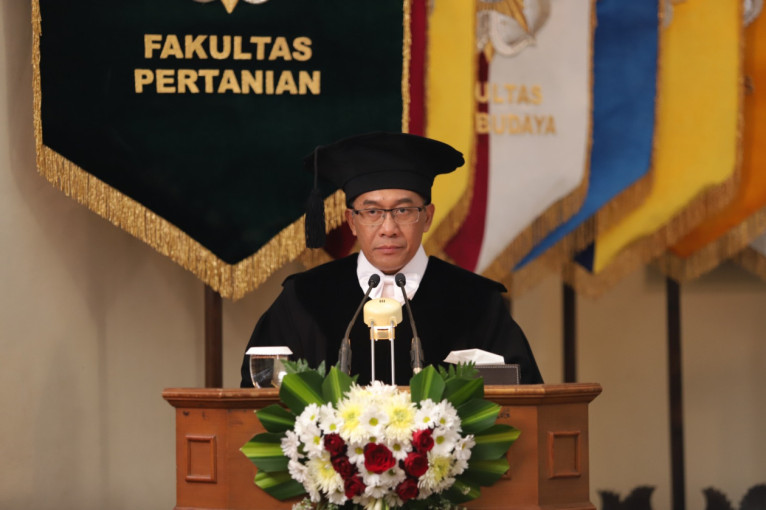 Land management using negative emission technologies and other mitigation and adaptation strategies holds great promise in addressing climate change and environmental sustainability. However, these approaches still encounter numerous challenges in their implementation.
One of the challenges is the availability of integrated data and information regarding greenhouse gas (GHG) emissions and carbon sequestration rates. 
This information is crucial for developing appropriate land management solutions, especially given the diverse soil types in Indonesia with varying qualities.
"Unregulated land management can lead to soil degradation, whereas proper land management is expected to be a solution for addressing climate change and ensuring environmental sustainability," said Dr. Benito Heru Purwanto in his inaugural address as a professor of soil chemistry and management at the UGM Faculty of Agriculture, on Thursday (3/8).
He mentioned that optimizing technologies and strategies for different soil conditions is another challenge, as is the need to understand effective mechanisms to reduce GHG and increase carbon sequestration rates.
The impact of biochar application varies greatly depending on its properties and soil conditions, such as pH, moisture, microbial profiles, etc. 
This results in varying levels of carbon sequestration achieved through biochar-based land management, and the presence of plants further contributes to this variability.
"Hence, further research on effective biochar applications to enhance carbon sequestration rates and reduce GHG emissions is needed," he stated.
Another challenge, according to Professor Purwanto, is in producing the most efficient technologies and strategies to reduce GHG emissions, particularly N2O emissions. 
He suggested methods such as catalytic decomposition of N2O using metal oxides and biological inhibition of nitrification processes. 
Catalytic decomposition of N2O is one of the most efficient methods for removing N2O, and zeolites containing exchanged Fe ions are known catalysts for N2O decomposition.
Another equally important challenge is the effectiveness of organic farming systems in addressing climate change issues. 
While widely accepted by society as a healthy and sustainable farming system, organic farming relies on managing soil organic materials to improve chemical, biological, and physical properties to optimize crop production.
In current climate change issues, the professor emphasized that organic farming should focus on minimizing GHG emissions and increasing soil carbon sequestration rates. 
Some literature suggests that GHG emissions from organic rice paddy systems can be lower, comparable, or higher than conventional farming systems.
"This implies that organic farming systems could contribute to higher GHG emissions if not carefully managed. Therefore, an assessment of the Global Warming Potential (GWP) of organic farming is needed," he explained.
In conclusion, he emphasized that the approach of negative emission technologies and climate change mitigation and adaptation strategies should provide four main benefits. 
Apart from benefiting the soil by improving its physical, chemical, and biological properties, these approaches contribute to agronomy through increased crop productivity and quality, enhance biodiversity sustainability, and provide socioeconomic and health benefits to society.
"Studies on social perceptions and public acceptance of climate change are also necessary. A reliable set of indicators is required to assess and evaluate these benefits' acceptance and feedback. Hence, a holistic and systematic approach from various fields is needed to achieve environmental sustainability goals," he concluded.
Author: Agung Nugroho
Photographer: Firsto