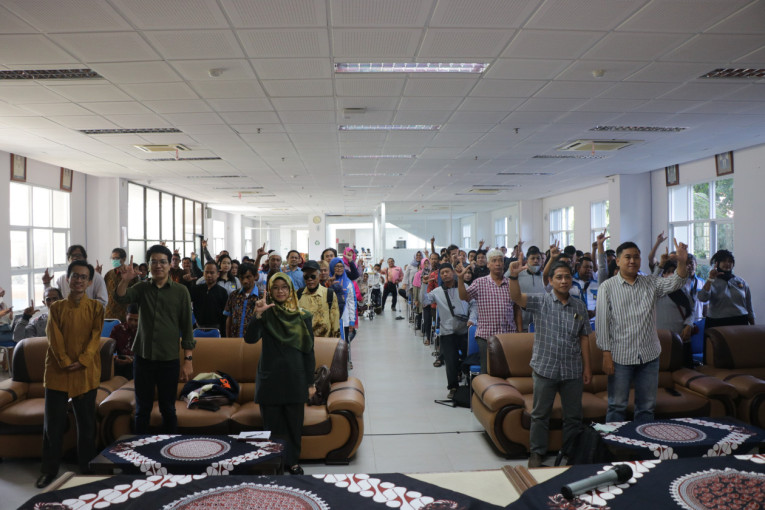 In Indonesia, people with disabilities are still ostracized and receive minimal care. With 22 million people with disabilities living in the country in 2020, according to Statistics Indonesia (BPS), their participation in social spaces, including digital transformation, continues to be hampered by negative stigma and the belief that they cannot participate in activities.
The Association of Indonesian Internet Service Providers (APJII) recorded that internet penetration in Indonesia reached 78.19 percent in 2023, covering 215,626,156 people out of the total population of 275,773,901. 
Furthermore, based on data from We Are Social, as of January 2023, there were 212 million internet users, with 167 million actively using social media.
Despite the large number of internet users, whether this has filled the accessibility needed for persons with disabilities remains unanswered. Due to a lack of reliable data, the solution is not yet evident. 
However, given that people with disabilities are generally underprivileged, this likely correlates with the fact that they have less access to the digital domain.
Recognizing the limited digital access for persons with disabilities, Siberkreasi of the Ministry of Communication and Information Technology collaborated with the Difapedia Community and UGM's Peduli Difabel Student Activity Unit to organize a workshop called "Realizing Independent and Empowered Persons with Disabilities through Inclusive Digital Transformation."
The workshop, held at the Library and Archive Room of Universitas Gadjah Mada on Thursday (20/7), was attended by 200 participants from various communities with disabilities in the Special Region of Yogyakarta. 
Three speakers participated in the workshop: the Director of Siberkreasi, Abduraahman Hamas Nahdly, who introduced inclusive digital literacy; a content creator and social media specialist, Bintang Wahyu Putra, who discussed how to maximize social media as an advocacy and self-empowerment tool for people with disabilities; and a marketplace specialist, Weliyan Tanoyo, who talked about marketplace management and sales optimization for entrepreneurs with disabilities.
Abduraahman Hamas Nahdly stated that policies protecting the rights of persons with disabilities are already complete. There is Law No. 8 of 2016 on Persons with Disabilities, and its derivative, Government Regulation No. 70 of 2019, which regulates the Master Plan for Persons with Disabilities.
However, despite these policies, fulfilling disability rights requires more concrete and practical implementations, particularly in service provision and various practices that persons with disabilities can accept.
"This also has implications for the use of digital means by people with disabilities to enhance self-branding and economic and social empowerment. Therefore, efforts from various parties are needed to increase inclusivity in the digital sector for persons with disabilities," the director said.
The second speaker, Bintang Wahyu Putra, believes that direct actions need to be taken by individuals with disabilities themselves. While many people without disabilities have discussed disability-related issues, it will be even better if persons with disabilities participate in formulating and creating policies. After all, they are the direct actors or stakeholders who must express their needs.
"Don't let others represent our voices, especially those who do not understand our backgrounds–people who do not know our needs. Therefore, individuals with disabilities need to take action, no matter how small it may seem, as the public is largely unaware of the conditions faced by individuals with disabilities," he added.
The content creator also encouraged persons with disabilities to use social media. Although familiar with social media, they are often seen as mere users or spectators and not active participants in raising disability-related issues.
By creating content, he believes they can provide a unique perspective, which will be appealing as individuals without disabilities produce most existing content.
"Persons with disabilities can become actors in the content. They can create videos, for example, showing how students with disabilities go about their daily lives, starting from leaving home for the campus, attending classes, doing assignments, and so on," he stated.
During the workshop, Weliyan Tanoyo discussed maximizing smartphones to enhance the MSMEs run by entrepreneurs with disabilities. He also shared tips and tricks for optimizing the digital sector for product marketing and strategies for utilizing marketplaces for MSMEs run by persons with disabilities.
Author: Agung Nugroho