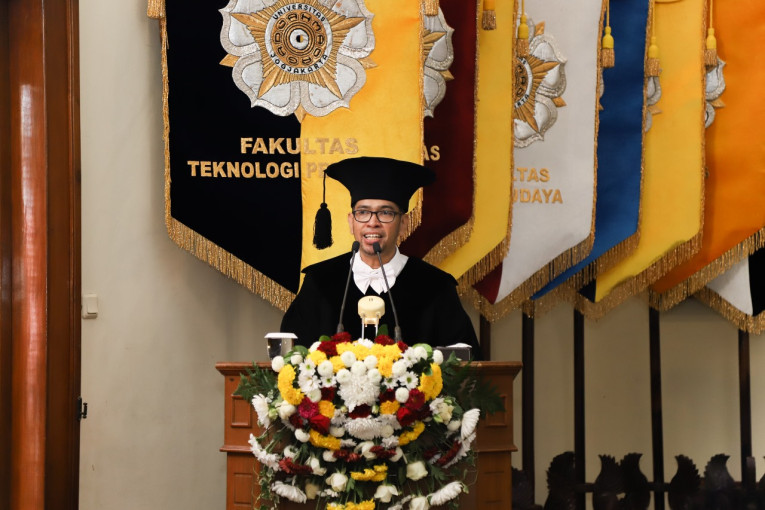 Universitas Gadjah Mada (UGM) held a professorial promotions ceremony for Dr. Mirwan Ushada of the Faculty of Agricultural Technology on Tuesday (August 22) at the UGM Senate Hall.
The new professor of agricultural industry technology delivered a speech titled "Intelligent Kansei Engineering System for Sustainable Agroindustry Innovation."         
In his view, agroindustry is a potential Indonesian advantage to improve national and global competitiveness to achieve Indonesia's 2045 Vision. Agroindustry innovation needs to be developed sustainably with open innovation, especially for MSMEs.
"The best innovation results can be achieved by sharing experiences and knowledge, similar to collective intelligence taught by the universe through AI algorithms like bird swarms and ant colonies," he stated.
Professor Ushada explained that the intelligent Kansei engineering system can aid agroindustry innovation through problem-shooting on human affective needs and design thinking frameworks. The AI approach helps stitch multi-parameter innovations in the form of modeling.
The system approach integrates measurement, modeling, and decision-making process support. So far, this system can be used with 12 functions to facilitate agroindustry in innovating products, services, work systems, and technology to adapt to various uncertainties.
"Starting from 2023, this system will be further advanced using virtual reality platforms. Its application will venture into macro-level innovation in policy formulation simulation (policymaking)," Professor Ushada said.
According to the professor, Kansei engineering opens the door widely for multi, inter, and even transdisciplinary approaches. 
Indonesian agroindustry holds natural resources and local wisdom awaiting the touch of Kansei engineering innovation, such as providing scientific proof of the glory of the archipelago's cosmopolis of spices and traditional foods or answering the visionary challenges of advanced technology.
Author: Agung Nugroho
Photographer: Donnie