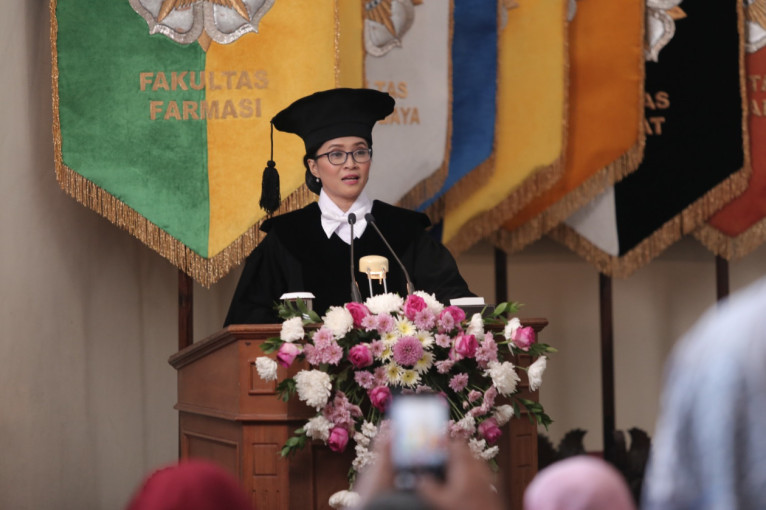 Dr. Puji Astuti of the UGM Faculty of Pharmacy has been appointed a professor of pharmaceutical biology. The inaugural ceremony occurred on Tuesday, August 29, at the UGM Senate Hall.
Professor Astuti delivered a speech titled "Cell Cycle as a Target for the Discovery of Natural Anti-Cancer Drugs: From Empirical to Modern Technology Approaches." 
Despite having several adverse side effects, chemotherapy is still one of the main techniques to treat cancer today. 
According to certain studies, chemotherapeutic medicines made from natural or synthetic substances, or their analogs, have few side effects and can help fight multidrug resistance.
"Several chemotherapy agents isolated from plants such as vincristine, vinblastine, irinotecan, etoposide, paclitaxel, camptothecin, and epipodophyllotoxin have been used in cancer management today," she said.
"Data from the US FDA (Food and Drug Administration) show that 40% of approved molecules come from natural substances or their derivatives, and 74% are used in cancer therapy."
The professor mentioned that many plant-based research studies have been conducted to identify bioactive chemical compounds used as sources of medicine, which have been tested for their pharmacological effects in vitro and in vivo. 
Some of these compounds are recognized for their roles in developing new anti-cancer drugs, such as turmeric (Curcuma longa L) with its active ingredient curcumin, known for its chemopreventive and antitumor capabilities. 
Additionally, soursop leaves (Annona muricata) have been researched and developed as breast and colorectal cancer therapies. Typhonium flagelliforme has been reported to inhibit the growth of MCF-7 cells in vitro, and noni (Morinda citrifolia) can inhibit the growth of several prostate cancer cells.
Professor Astuti explained that there are many challenges in clinical trials for drug discovery from natural sources. The primary challenges include a lack of supply that makes it impossible to isolate the compound from its original plant source, high costs, and ecological issues.
Nevertheless, she mentioned that modern technology, such as cell culture and plant tissue culture technology, offers promising solutions to meet the demand for secondary metabolites on a commercial scale. 
Various efforts are being made, including optimizing culture conditions, selecting high-productivity strains, using precursors, transformation methods, and immobilization techniques.
Alternative combination strategies are also being developed, such as semi-synthesis of drugs or using alternative hosts to produce the drugs.
"The search for bioactive compounds in plants is a significant challenge because these compounds are expected to be obtained in large quantities without causing ecological damage," she explained.
Professor Astuti stated that some current research focuses on the potential of endophytic microbes (microbes that grow within plant tissues) as sources of bioactive anti-cancer compounds. 
This is done considering the vast potential of bioactive anti-cancer compounds produced by plants, and many studies have reported that microbes growing within plant tissues can also produce active metabolites similar to their host plants. 
For example, taxol from the Taxus brevolia plant was initially produced by the endophyte Taxomyces andreanae.
"The high biodiversity in Indonesia strongly supports the discovery of Indonesian drugs. With innovation, advances in science and technology, and the capabilities of our nation's resources, the development of drugs in our country can progress more rapidly and sustainably," she concluded.
Author: Ika
Photographer: Firsto