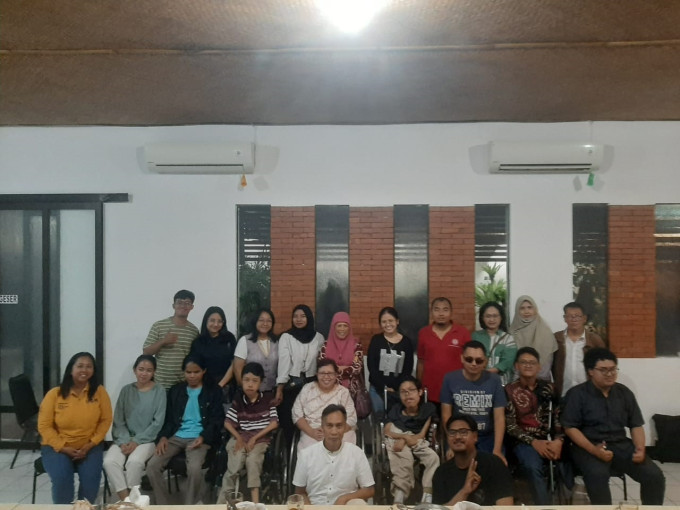 Dr. Wuri Handayani, a lecturer at the UGM Faculty of Economics and Business, hosted a graduation party on Friday, August 25, for students with disabilities who received their degrees in August.
"This is our culture; every time someone graduates, we always hold a celebration. We have a meal together, and simultaneously, we want to motivate these recent graduates," she said.
Dr. Handayani is known as a lecturer who actively advocates for disability issues. She strongly encourages students with disabilities to pursue their dreams.
A student with vision impairment named Alexander Farrel Rasendriyo Haryono received a cum laude degree from the law faculty. He spoke that evening about his time spent studying at UGM. 
"I'm thankful and appreciative, especially to Dr. Wuri, my friends, and those who encouraged and assisted me. I intend to pursue my master's degree after I find a job that suits me," he replied with a bashful smile.
In addition to Farrel, there is Muhammad Faqih Husaen from the Faculty of Mathematics and Natural Sciences.
Besides achieving the cum laude honor, Husaen was an initiator and developer for a mobile application that can inform location accessibility for people with disabilities, funded by the Ministry of Communication and Information Technology.
As an individual with a physical disability, he knows firsthand how difficult it is to access information. 
Regarding developing a disability-friendly environment at UGM, Dr. Handayani revealed that she is currently formulating a project to establish a Disability Service Unit.
"During my education abroad, they had a specialized unit for disability services. So, every student with a disability received genuine support up to graduation, even from two to three assistants," Dr. Handayani said.
"We are working to establish a Disability Service Unit to make it easier for students with disabilities to study. This project was postponed due to the pandemic. However, it is now being vigorously promoted under Professor Wening Udasmoro's direction."
The Disability Service Unit will encompass various aspects, especially academic services and facilities. 
"Currently, support is from the student unit Peduli Difabel. But, at the student unit level, they don't fully have the authority to provide disability services. It should be the university's responsibility to create a disability-friendly environment. We are working on this, so hopefully, it can be implemented soon," added Dr. Handayani.
Author: Tasya