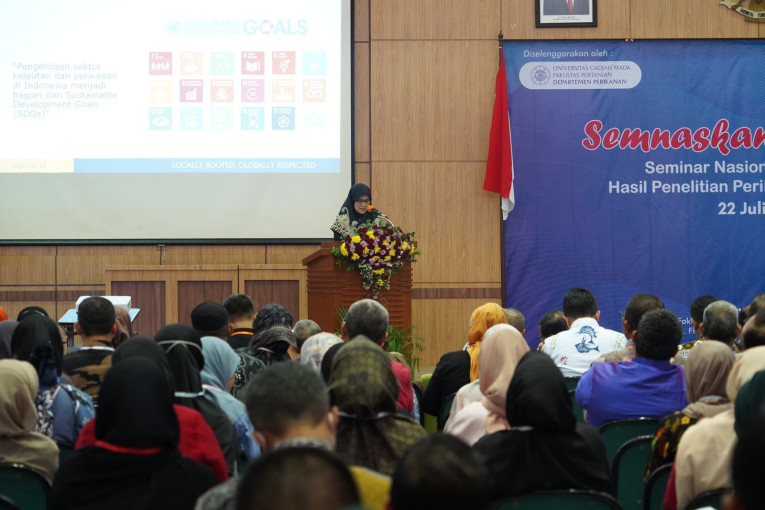 Director General for Marine and Fisheries Product Competitiveness at the Indonesian Ministry of Marine Affairs and Fisheries, Dr. Budi Sulistyo, presented strategies to enhance the competitiveness of marine products at UGM.
During the 20th National Fisheries Seminar (SEMNASKAN) organized by the Department of Fisheries at the Faculty of Agriculture on July 22, 2023, Dr. Sulistyo encouraged the development of high-quality products that meet international standards to increase competitiveness.
"The use of efficient and environmentally friendly processing technology and the application of blue economy principles are also among the efforts to enhance the competitiveness of marine products in the country," he stated.
The creation of a competitive, connected, efficient, and practical logistics system that guarantees food quality and safety is a further step, according to the director general. 
Additional tactics include acquiring raw resources, concentrating on low-cost production that produces high-quality products, and adopting a promotion plan backed by fishery diplomacy.
Then, fisheries stakeholders must utilize information technology for market study, product innovation, ease of use, and speed and express commitment to enhancing product competitiveness.
"These efforts are aimed at enhancing the competitiveness of marine and fisheries products, supported by quality assurance and safety of fishery products for increased domestic consumption and export," he explained.
In this seminar, Dr. Indun Dewi Puspita, from the Department of Fisheries, also delivered a presentation titled "Histamine Control Strategy for Food Safety and Security."
Dr. Puspita emphasized that Indonesia's fisheries and marine sectors are crucial in national development and are part of the Sustainable Development Goals (SDGs). Tuna is Indonesia's flagship commodity for exports and domestic consumption. 
Therefore, ensuring the quality and safety of fishery products must be continuously done throughout the supply chain, from proper handling on the boat, unloading, processing, and distribution to the delivery to consumers' hands.
"Of course, this will be successful if there is synergy and collaboration between fishermen, business players, academics, researchers, and the government," she said.
SEMNASKAN serves as a platform for disseminating research results in the marine and fisheries sciences. During the meeting, two hundred ninety-five participants presented research findings in aquaculture, marine biology, fisheries resource management, fisheries socio-economics, and post-harvest considerations.
SEMNASKAN is expected to strengthen information exchange, communication, and synergy among researchers to enhance the basis of fisheries and marine scientific and technological development.
Author: Ika
Photo: Department of Fisheries