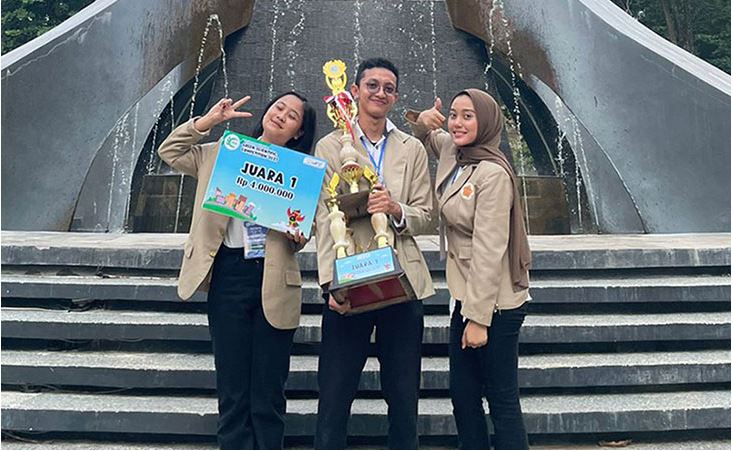 Students from the Department of Civil Engineering, Faculty of Engineering, have achieved remarkable success in the 2023 National Green Scientific Competition. 
GAMABRATA, composed of Tofan Aji Surya Permana, Diva Natasha Putri Pramitha, and Elcilianika Br Bangun, emerged as the first-place competition winner.
At the competition held by Semarang State University, under the guidance of Dr. Johan Syafri Mahathir Ahmad, the team created an innovation called GERONIMOS: Blue-Green and Sustainable Design Building with Modular Construction for Offices in the Capital City of Nusantara.
"The GERONIMOS innovation was developed considering issues surrounding the construction project of Indonesia's new capital city, which is currently in the preparatory stage," said Tofan Aji Surya Permana on Wednesday (5/7).
As the leader of GAMABRATA, Permana explained that the relocation of Indonesia's capital city was partly due to Jakarta's environmental concerns. As the current capital, Jakarta faces the threats of flooding, earthquakes, and land subsidence.
According to data from the Nusantara Relocation Pocket Book by the Ministry of National Development Planning (BAPPENAS) in July 2021, there are eight principles in building the new capital city. 
One crucial aspect of construction is using environmentally friendly technology, including green buildings. 
Green building is a concept that promotes environmentally friendly construction by considering energy efficiency, the use of eco-friendly materials, and the efficient use of natural resources.
"This research discusses the concept of a green high-rise building for office buildings in Nusantara through the Life-Cycle Design approach and the principles of blue-green infrastructure," explained Permana.
With this concept, he said, all aspects are thoroughly examined to be implemented in urban areas to achieve environmentally friendly buildings. This aligns with the Nusantara Relocation Pocket Book, aiming to make Nusantara in 2045 a World City for All.
"It is a concept that aims for Net Zero Carbon emissions and 100% use of renewable energy," he added.
Permana explained that the National Green Scientific Competition is an annual event organized by the Engineering Research Club (BSO EneRC) at Semarang State University. 
This year's theme is Actualization of Science and Technology (IPTEK) and Creative Economy Innovation Based on Sustainable Development to Achieve Indonesia's Green Growth and Global Goals 2030. 
The competition consists of two stages: the preliminary and final rounds. In the preliminary round, GAMABRATA prepared a document analyzing the problem based on the instructions. They made it to the final round as one of the top 10 teams out of 50 teams selected.
"Starting from the abstract selection stage, GAMABRATA advanced among over 100 other teams from all over Indonesia," he explained.
Author: Agung Nugroho