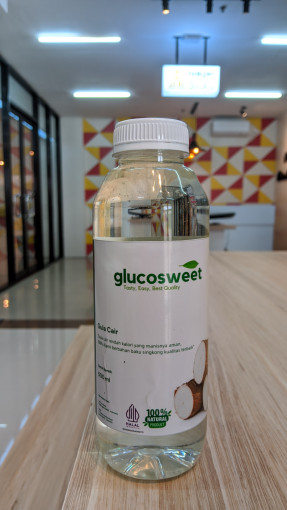 A Master of Public Health student at the UGM Faculty of Medicine, Public Health, and Nursing, Listi Sukmawati, has created a cane sugar substitute made from cassava and produced by adding 100% natural enzymes.
Glucosweet is beneficial for health because it has lower calories than cane sugar. With twice the sweetness level of regular granulated sugar, the use of Glucosweet is expected to be moderate, thus reducing sugar intake.
As a recipient of the World Health Organization (WHO)-Tropical Disease Research (TDR) scholarship, she has a long-standing desire for entrepreneurship. She does not just do any business; she aims for a business that aligns with her field of interest: public health. 
She conducted literature studies for this product and discussed low-calorie sugar made from abundantly available ingredients in Indonesia with many experts and colleagues.
Her strong determination eventually led her to meet her friends, who have since joined her team, focusing on developing liquid sugar made from cassava. Thus, the brand Glucosweet was born, aiming to provide a healthy choice that benefits the community.
"If you have ever tried it, you will find it delicious and soothing, which is why Glucosweet is suitable for various processed food and beverage products," Sukmawati said at UGM Campus on Friday (23/6).
Since pursuing her undergraduate in Nursing at UGM, Sukmawati admits that she has had an interest in public health. She views public health as a beneficial discipline that broadly impacts society. This further strengthens her commitment to developing a brand called Glucosweet.
She explained that Glucosweet liquid sugar is currently produced in Banjarnegara by Sari Tela Utama. All the research and development were initiated with Djohan Irawan, the head of Sari Tela Utama, leading to obtaining the Halal certification from LPPOM MUI and the Distribution Permit from BPOM.
Consequently, Glucosweet can now be freely sold in the market. Through the commercialization of this product, Listi Sukmawati, as the initiator, experienced a strategic partnership with Sari Tela Utama, representing a concrete collaboration between the community and academics.
"This is a real collaboration and a form of practicing the tri-dharma of higher education, especially in terms of community service," she said.
Glucosweet is marketed directly to food and beverage products or brands such as herbal drinks, healthy foods, and wet and dry cake producers. Ultimately, Glucosweet strives to be the best choice for the food and beverage industry, providing high-quality products with lower sugar content.
"Undoubtedly, this fulfills the expectations of consumers who seek a natural, healthy lifestyle," she said.
Now, Sukmawati, along with her two friends Ghilman Nafadza Hakim and Nico Martha, who are also UGM alums and have backgrounds in Business Strategy and Food Processing Technology, continues to develop the team to enhance competitiveness, dedicating themselves to developing human resources and improving the quality of Glucosweet products.
"At Glucosweet, we actively participate in various exhibitions and business matching events at home and abroad. All of this is done with the hope of expanding Glucosweet's market coverage," she concluded.
Author: Agung Nugroho