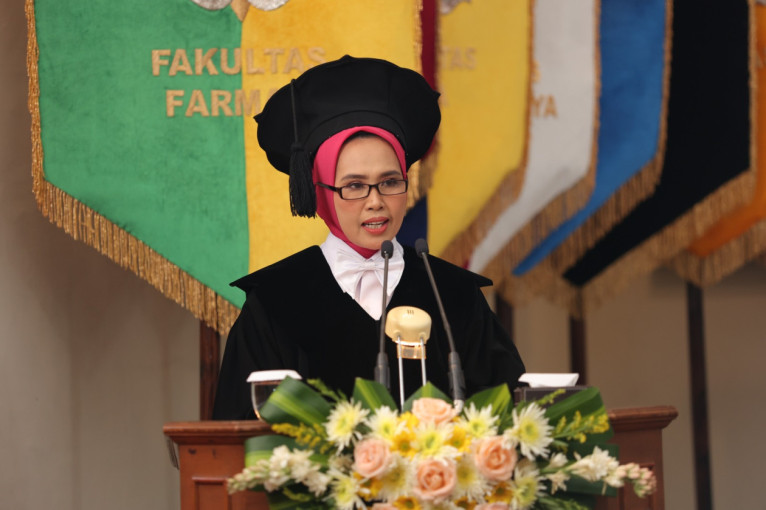 Professor Ritmaleni acknowledges that the current carbon emissions and plastic pollution are consequences of chemical reactions. Therefore, she hopes chemists will reconsider how chemistry education is provided to the present and future generations.
According to her, chemistry education in schools and universities should be transformed to help save the planet. One way to achieve this is by utilizing artificial intelligence (AI) to convert chemical by-products and side-products into valuable materials.
"Research has shown that around 300 chemical compounds commonly used in pharmaceuticals and agriculture, including antibiotics like dapsone and intermediates for cisatracurium, a COVID-19 drug, can be synthesized. This is an action and application of green chemistry in sustainable development," she stated at the UGM Senate Hall on Tuesday (25/7).
Professor Ritmaleni made these remarks during her inauguration as a professor of pharmaceutical chemistry. In her inaugural speech titled "Organic Chemistry, Part of the Solution to Climate Change-Related Diseases," she mentioned the principles of green chemistry emerged due to global warming, which will impact the world.
She emphasized that chemists, through organic chemistry, have long been preparing to face the impact of climate change, particularly its effect on human health.
"Thus, it can be said that organic chemistry is one of the solutions in dealing with the impact of climate change," she explained.
As an expert in organic synthetic chemistry, Professor Ritmaleni invited many parties to support organic chemistry to play a more significant role in dealing with future climate change.
"Organic chemistry, particularly organic synthetic chemistry, can be part of the solution to climate change, especially in the discovery of drugs for climate change-related diseases through the application of green chemistry principles," she added.
The health sector is expected to experience significant economic losses due to the impact of climate change. For instance, the number of dengue fever cases is predicted to increase. Moreover, a source indicates that 89.3 percent of the world's population, approximately 8.4 billion people, will be at risk of malaria by 2078.
"These figures should be enough to make us prepared. Climate change must be addressed because it has significant impacts and risks, especially on the sustainability of living beings and future generations," the professor emphasized.
Author: Agung Nugroho
Photographer: Firsto