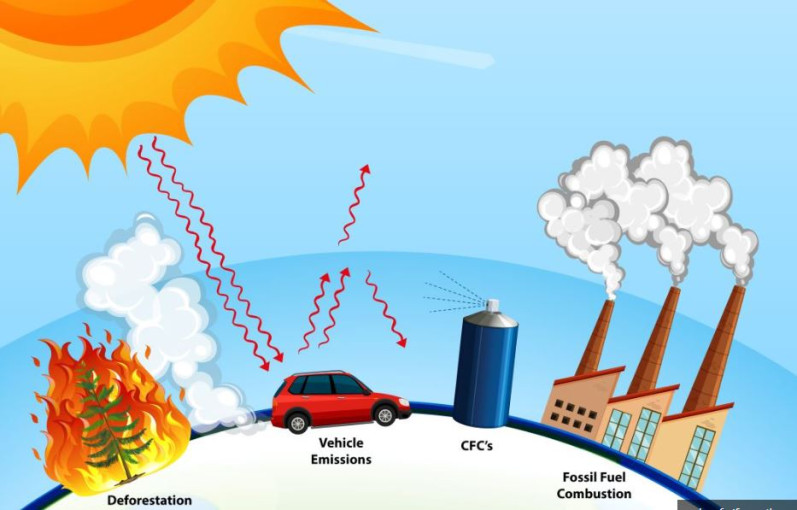 Head of the Indonesian Meteorological, Climatological, and Geophysical Agency (BMKG), Professor Dwikorita Karnawati, said Indonesia is no longer among the top 10 countries contributing to greenhouse gas emissions. 
According to Professor Karnawati, this news was revealed after BMKG obtained monitoring results from the global greenhouse watch.
"It turns out that our emissions are below the global average. Previously, we were among the top ten largest greenhouse gas emitters in the world, and this is not good," said Professor Karnawati during the Business Summit and Investment Forum titled 'Disaster Mitigation and Climate Change Adaptation' at the UGM University Club on Friday (9/6).
"With this global data, we are no longer among the top ten emitters."
According to Dwikorita, Indonesia can better control greenhouse gas emissions in the country by installing this emission monitoring tool. She added that this tool was also installed worldwide. 
"This tool serves as a global atmospheric observer. One of them is installed at BMKG. Its task is to monitor greenhouse gasses, the main cause of global warming. We are expected to understand the sources of greenhouse gasses locally. I believe the involvement of universities is necessary to monitor and analyze," she said.
Dwikorita explained that greenhouse gas emissions consist of CO2, CH4, and N2O, which have shown an increasing trend in recent decades. A rise in 1-2 degrees Celsius global temperatures has resulted in droughts and flooding worldwide. 
"Not only droughts, but water resources are also decreasing in developed and developing countries. There is also a threat to global food security, and the food crisis is intensifying and widespread. FAO predicts that around 500 million farmers, who produce 80% of the global food, will be affected. Hunger will be everywhere, and countries will not be able to help each other because they will face food shortages," she said.
She emphasized that the impacts of climate change are becoming increasingly evident and can disrupt global economic and political stability, in addition to the effects of pandemics and wars. She believes that mitigation efforts are needed to monitor greenhouse gas emissions and mitigate climate change to reduce the impacts of global warming.
Dr. Bandung Sahari, Senior Vice President of Sustainability at Astra Agro Lestari, said that the peatland area in Indonesia and Malaysia accounts for 8% of the world's total peatland area. The conversion of peatlands into oil palm plantations has raised deforestation issues, leading the European Union to tighten its palm oil exports through net zero-deforestation requirements. 
According to him, the issue of deforestation needs to be clarified because palm oil companies also engage in land restoration, conservation of rare plants, and preservation of flora and fauna biodiversity around the plantation areas. 
"We also carry out river restoration for climate change mitigation, restore mangroves, and conserve rare forest plants because we want to maintain biodiversity," Dr. Sahari said.
Dr. Oki Muraza, SVP for Research and Technology Innovation at Pertamina (Persero), explained that Pertamina has several initiatives to achieve net-zero emissions to reduce greenhouse gas emissions. With Indonesia's rich biodiversity and global vegetable oil producer, it is expected to contribute as a carbon sink and provide raw materials for green refineries. 
"We are starting to reduce methane emissions and encourage the recovery of methane energy sources. We continuously promote the use of ethanol and biomass waste from plantations. Pertamina has also initiated the use of green hydrogen in Indonesia, which will use electricity from Pertamina's geothermal fields," he said.
Author: Gusti Grehenson
Photo: Freepik