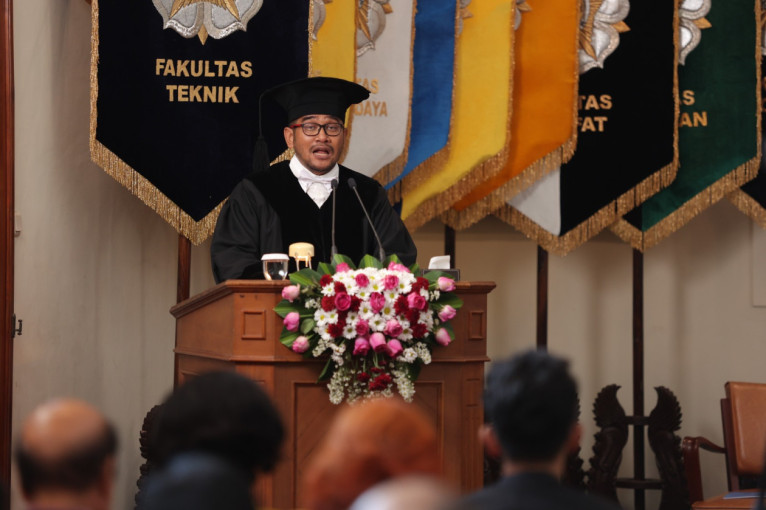 Based on greenhouse gas emission data from 1990 to 2020, the industrial, energy, and transportation sectors have become the main contributors to greenhouse gas emissions, with the fastest increase of 50 percent over the past 30 years. 
In 2020, the industrial sector contributed 31 percent, the energy sector 28 percent, and transportation contributed 16 percent of global greenhouse gas emissions.
According to Professor Himawan Tri Bayu Murti Petrus of the UGM Faculty of Engineering, the potential for technological disruption in the industrial, energy, and transportation sectors can occur through using renewable energy sources and optimizing related infrastructure. 
For example, disruption in the transportation sector through electric vehicles allows for a massive transition to renewable energy sources in the transportation sector, which previously relied on the oil and gas sector.
The same applies to the industrial sector using electricity from renewable energy sources. 
Other efforts include increasing production efficiency, implementing environmentally friendly alternative technologies, and providing incentives for products produced through environmentally friendly processes.
"The industrial, energy, and transportation sectors have the greatest potential for reducing greenhouse gas emissions, with the potential for greenhouse gas emissions reduction in the energy sector reaching 4.3 million tons of CO2 through the use of renewable energy, the transportation sector 1.9 million tons of CO2 through the use of electric vehicles and increased transportation sector efficiency, and the industry sector 1.3 million tons of CO2 from production process efficiency," he said at the UGM Senate Hall on Tuesday (September 12) when inaugurated as a professor of mineral processing science.
In his lecture "Implementation of the Zero Waste and Circular Economy Approaches in Critical and Strategic Mineral Processing for Sustainable Mineral Processing," Professor Petrus explained that applying environmentally friendly technology requires critical and strategic mineral raw materials. 
Even the European Commission classifies some critical minerals under the Critical Raw Materials Act, with the latest assessment in 2023 classifying 21 strategic elements, 31 elements, and three groups of elements, including light and heavy rare earth metals (REM) and platinum group metals as critical elements.
Some critical minerals, especially those needed for battery production, such as lithium, nickel, cobalt, manganese, graphite, and silicon, are the main focus, with the likelihood of a supply deficit in the next 50 years. 
Other important elements to consider are rare earth metals (REM) such as lanthanum, cerium, neodymium, praseodymium, and scandium, widely used as additives and enhancers in green technology performance and efficiency.
"Most of these elements have critical points vulnerable to political, social, economic, and geopolitical disturbances. For example, graphite, silicon, manganese, and rare earth metals (REM) are vulnerable in terms of supply chains due to monopolies by China," the professor said.
"As an illustration, China holds 73 percent of graphite supply for batteries, 64 percent of silicon supply, 94 percent of manganese supply for batteries, and 85 percent of rare earth metal supply (REM)."
According to Professor Petrus, geopolitical friction between China and Western countries can disrupt global supply chains, even though these minerals are crucial in transitioning to green technology. 
Indonesia, with its abundant mineral resources, has the potential to be an important global player in supplying these critical minerals.
"Exploration of primary and secondary sources of critical and strategic minerals needs attention, as well as self-reliance in downstream stages to increase added value from existing mineral potentials," he said.
Indonesia has natural wealth in the form of minerals, including large laterite rocks in Sulawesi with the potential for nickel and cobalt, as well as abundant manganese, bauxite, and tin with the world's best grades spread across Indonesia.
Therefore, a new paradigm in mineral resource management is needed based on sustainability aspects, namely zero waste and the circular economy. 
The first concept, zero waste, is a processing process that maximizes the extraction of valuable elements from mineral resources and minimizes waste. 
Meanwhile, the circular economy concept aims to create a closed cycle in the production process and maximize the recycling of products.
"This results in a very strong self-sufficiency in the domestic supply chain, thus reducing the impact of global supply chain instability," he said.
Author: Agung Nugroho
Photographer: Firsto