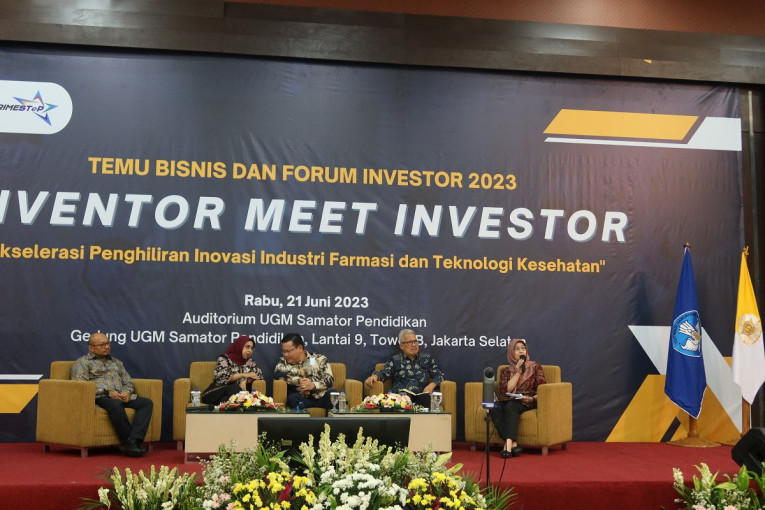 Indonesia has a growing healthcare industry. Unfortunately, the lack of innovation hampers investment in the development of the domestic healthcare industry.
This was emphasized by the Director General of Pharmaceuticals and Medical Devices of the Ministry of Health, Dr. L Rizka Andalucia, at Inventors Meet Investors on Wednesday (21/6) at UGM Jakarta Campus.
Rizka exemplified that Indonesia is one of the Asian countries with a rapidly growing pharmaceutical market. According to Rizka, the lower prices of essential drugs compared to neighboring countries also contribute to the growth of the pharmaceutical market. With these conditions, there is a potential increase in healthcare spending in Indonesia, reaching Rp178.7 trillion in 2023.
"Unfortunately, investment is stalling because the Indonesian pharmaceutical market does not support innovation," said Dr. Andalucia.
Although shortcomings still occur in research and development, the Ministry of Health continues to promote the transformation of the healthcare system. One of the ways is through the development and utilization of technology, digitization, and biotechnology in the healthcare sector.
Special Staff to the Minister of Health in the Resiliency of the Drug and Medical Device Industry, Professor Laksono Trisnantoro, provided an overview of Policy Convergence on Research and Innovation to support the Resiliency of the Medical Device and Pharmaceutical Industry in Indonesia during the event.
Professor Trisnantoro explained that research and innovation in pharmaceutical and medical devices are currently included in the highest policy agenda, namely the Omnibus Health Bill. 
"Previously, it was only at the Presidential Instruction level," said Professor Trisnantoro.
Inventors Meet Investors aims to boost the number of innovations from UGM that are commercialized in the industry. The event aims to build interactions and ensure innovation sustainability by strengthening academic networks. 
It is also part of the acceleration pipeline for commercializing innovations with an industry-driven approach through UGM Science Techno Park as an intermediary unit and productive research and innovation platform that synergizes with industry and government.
Author: Satria