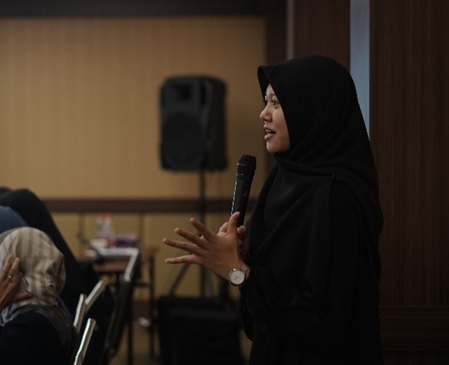 A year ago, the story of a rural Mount Lawu farmers' child, Apia Dewi Agustin (23), who was in the final semester of her studies at Universitas Gadjah Mada, garnered public attention. 
Apia's story inspired the Indonesian community and shattered the stigma that rural children with limited economic conditions could not attend college.
With strong determination and an unwavering spirit, she graduated from the Accounting program at UGM in 2022 with cum laude honors. 
She completed her undergraduate studies without incurring educational costs, thanks to the government scholarship and the KAFEGAMA (the UGM Faculty of Economics and Business Alums Family) scholarship.
Her heroic tale doesn't end there. Apia received another scholarship that enabled her to attend UGM for postgraduate studies. 
The former project management analyst at an Indonesian multinational company was given a pass for master's and doctoral studies at the university.
"Alhamdullilah, I can continue my master's and doctoral education through the PMDSU scholarship (Master's Education to Doctorate for Excellent Bachelor Graduates) from the Ministry of Education and Culture," said Apia on Wednesday (September 6).
Apia explained that this scholarship aimed to produce high-quality doctoral graduates, accelerate the addition of doctoral degree holders as lecturers, and speed up international publications.
This scholarship is only offered every two years, requiring applicants to graduate within the last year of the bachelor's program and be under 24 years old. Not all universities in Indonesia can be partners in this program.
Apia was one of the 300 outstanding graduates lucky enough to pursue a doctoral degree through an accelerated postgraduate program (master's and doctoral degrees) that will take a maximum of 4 years starting in 2023. 
Currently, Apia is registered as a first-semester postgraduate student in the Master of Science and Doctoral Program in Accounting at the UGM Faculty of Economics and Business, receiving supervision from Professor Mahfud Sholihin.
Not Giving Up in Any Situation
Apia was born into a very humble family in one of the remote villages far from the city center in Magetan Regency, East Java. 
Her father was a farmer who never received a formal education, not even completing primary school. Her family's economy wavered when her father passed away when Apia was in her fifth semester of undergraduate studies. 
For her family's daily living, they relied on the income from a small grocery store managed by her mother, who only graduated from elementary school.
"From my mother's sales, the income was just enough for our daily needs," she said.
However, this situation fueled Apia's determination to study diligently and excel since her school days. She was always the top student from elementary to high school and rarely lost her first-place ranking. 
Even in high school, Apia often participated in competitions and became a winner for three consecutive years. She also graduated as the best student at one of the best high schools in her region. 
She received a full scholarship for tuition fees during high school due to her achievements.
Aware of her family's limited financial condition, Apia did not just sit idly by during her college years. She worked part-time as a teaching assistant, class assistant, and research assistant in laboratories to gain knowledge and pocket money.
Despite her family's situation, Apia never once felt discouraged. Instead, she felt grateful because her parents always supported her to pursue the highest education possible. 
This became Apia's motivation to continue studying diligently, complete her undergraduate studies, and then continue her postgraduate studies in Accounting at UGM with a full scholarship.
"I always remember my parents' message. Even though my parents didn't go to school, their children should be able to go to school because wealth can run out, but knowledge will last forever," she explained.
Apia is interested in research in financial accounting, accounting information systems, and Islamic accounting. 
Her research on the waqf (Islamic endowment) accounting information system, conducted alongside a faculty project funded by LPDP, has also received intellectual property rights from the Ministry of Law and Human Rights. 
Besides her academic focus, Apia participates in various social and educational activities and community organizations.
"Even though I come from a remote village, am the child of a farmer who did not have access to formal education and has limited finances, I am never afraid to dream big," said Apia, who aspires to become an academic and researcher.
"We have the right to dream high and achieve it. I hope the knowledge I acquire will be blessed and always beneficial to others."
A disadvantaged family background does not hinder someone from accessing higher education. Many Indonesians like Apia are accepted into UGM with the support of educational scholarships managed by UGM to facilitate their academic journey. 
This reflects UGM's strong commitment as a university that promotes quality and inclusive higher education for all communities, including people with low incomes, people with disabilities, and those from disadvantaged regions.
Author: Ika