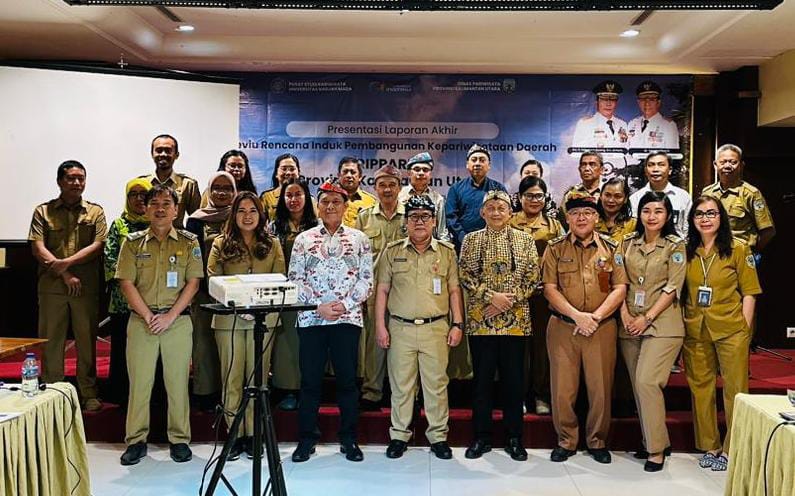 North Kalimantan Province possesses significant and advantageous potential for tourism development. 
Situated within the golden triangle, Tawau Sabah (Malaysia), Tawi-Tawi (Philippines), and Brunei Darussalam, the province is envisioned to become a showcase for Indonesia and a connecting bridge among those three countries.
Being a border region, North Kalimantan is strategically positioned to play a vital role in the economic and geopolitical landscape of the area through tourism development. The various outstanding potentials of this region need to be optimally developed to foster strong economic growth.
According to the Advisor to the Governor of North Kalimantan for Economic Affairs, Development, and Inter-Institutional Relations, Burhanuddin, the province is committed to promoting tourism as a flagship sector in the future. 
This commitment was further reflected in the Regional Tourism Development Master Plan, which underwent a final review on Monday (7/8) in collaboration with Universitas Gadjah Mada.
Head of the UGM Center for Tourism Studies, Dr. Mohamad Yusuf, explained that North Kalimantan has 307 tourist attractions spread across five regencies/cities. 
Nunukan Regency has the most attractions, with 97 (32 percent). In comparison, Malinau Regency has 86 attractions (28 percent), Tarakan City has 45 (15 percent), Bulungan Regency has 40 (13 percent), and Tana Tidung Regency has the least with 35 attractions or 12 percent.
The 307 tourist attractions include 162 natural attractions (55 percent), 82 cultural attractions (27 percent), and 57 artificial attractions (19 percent). 
"Of the total 307 tourist attractions, several leading tourist attractions are the Bulungan Sultanate Museum, Tana Kuning Beach, Amal Ratu Intan Beach, Mangrove & Proboscis Monkey Conservation Area, Belaga One Mangrove Forest, Kayu Angin Beach, Rumah 2 Negara & Border Monument, Gunung Rian Waterfall, East Tideng Pale Mangrove Forest, Setulang Tourism Village, and Sapi Island Tourism Village," said Dr. Yusuf.
Professor Heddy Shri Ahimsa-Putra, as the head of the study team, offered the Vision for North Kalimantan's Tourism Development 2024-2033, aiming to position the province as a world-class border tourism destination that is competitive, culturally rich, contributes to regional development, enhances community welfare, and is sustainable.
The border is the main focus of tourism development in the province. The proximity of North Kalimantan to neighboring countries such as Sabah and Sarawak in Malaysia underscored the significance of border tourism development.
Five districts with 63 villages in Malinau Regency and 17 with 182 villages in Nunukan Regency directly border with Sabah and Sarawak.
"There are 110 out of 307 tourist attractions in the border areas of Nunukan and Malinau," he said.
Another researcher at the center, Wijaya, emphasized the need to establish four Strategic Tourism Areas in the province, each with a distinct development theme. 
These areas encompass Tanjung Selor, Tarakan, Sebatik, and Long Bawan, each aiming to highlight unique local experiences and cultural heritage.
Tanjung Selor and its surroundings will have a theme of the gate of memory of the glory of the Bulungan Sultanate, while Tarakan with the experience of enjoying a combination of waterfront tourism and Tarakan culture.
Senatik Island will focus on beach border tourism development and culture, while Long Bawan will take Dayak Lundayeh's gastronomic tourism.
In his presentation, Researcher Sotya Sasongko stated that his team at the UGM Center for Tourism Studies had produced three essential document formulations as the basis for tourism development in North Kalimantan.
These include the Regional Tourism Development Master Plan, an academic manuscript, and a draft regional regulation on the Regional Tourism Development Master Plan.
These documents will serve as legal foundations for cross-sectoral and inter-institutional tourism development in North Kalimantan.
"We hope, ultimately, the regional regulation on the Regional Tourism Development Master Plan can support the local government in developing, supervising, and managing tourism development in North Kalimantan," he concluded.
Author: Agung Nugroho