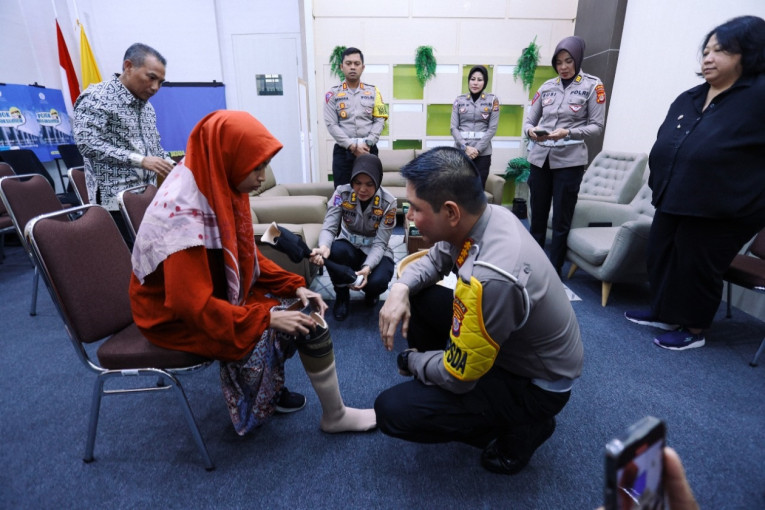 Yubita Hida Aprilia (19) vividly remembers six years ago, on September 15, 2017, when she reluctantly consented to amputating her right leg. The procedure was necessary to prevent a bone tumor from spreading beyond her foot and calf.
The new student in the Indonesian Literature program at the UGM Faculty of Cultural Sciences remembers that day as one of the most challenging in her life. 
However, this year, on the same date, September 15, 2023, she experienced a joyful moment. She received a new prosthetic leg from Police Chief Commissioner Alfian Nurrizal from the Directorate of Traffic of the Yogyakarta Regional Police.
The provision of this new prosthetic leg is closely tied to her story, which had gone viral on social media: a girl with physical and economic limitations who overcame her boundaries. She proved that her disabilities didn't deter her determination to pursue higher education.
Hailing from Termas Village, Karangrayung, Grobogan, Purwodadi, Central Java, Yubita was accepted into UGM. She gained admission to UGM through the national entrance test (SNBT) with a fully subsidized education cost (100% subsidy), meaning her education is free.
Police Chief Commissioner Alfian Nurrizal came across the news about Yubita and decided to learn more about her. In August 2023, he visited UGM to meet Yubita and offer her a new prosthetic leg. Yubita promptly accepted the offer, and the process of making the prosthetic leg began.
After receiving the new prosthetic leg, Yubita immediately replaced her old one. She took her first steps with the new leg to ensure it was comfortable and suitable. She felt more at ease with her new prosthetic leg and was grateful for the support that allowed her to carry out daily activities.
Although her previous prosthetic leg was still in good condition, Yubita found it less stable during use. The prosthetic leg doesn't resemble a human leg like the first one she received from the hospital. It's essentially an elongated tube from below the knee to the foot, without a framework and hinge at the sole.
"It's indeed more comfortable to wear the current one, even though it's heavier. It's more suitable for my daily activities," she explained.
Yubita expressed joy and gratitude to Police Chief Commissioner Alfian Nurrizal for providing her with this new prosthetic leg. She hopes this new leg will allow her to pursue her studies and daily activities more smoothly.
Yubita was diagnosed with a bone tumor in her final year of elementary school. However, neither she nor her family was aware of it. Initially, there was swelling in her right leg that caused discomfort. 
When the pain started, her parents would take her to a masseuse for treatment. Despite the inconvenience, she managed to go about her daily activities with the help of crutches.
Then, one day, after returning home from junior high school, Yubita was involved in an accident. As her mother picked her up from school on their motorcycle, they were hit by another motorbike. 
Due to the collision, Yubita fell and injured her leg, prompting her to seek medical attention. It was only during her examination at the hospital that she was diagnosed with a bone tumor that had already affected her foot and calf. Her family decided to proceed with the amputation to prevent the tumor from spreading further.
Police Chief Commissioner Alfian Nurrizal expressed his hope that Yubita would enjoy smoother daily activities with her new prosthetic leg, including supporting her in her academic pursuits. He also motivated Yubita to remain enthusiastic and confident in her life journey.
"Yubita is like my own child. So, if you encounter any difficulties in the future, don't hesitate to contact me," he conveyed to Yubita while offering to become her guardian.
The Secretary of UGM, Dr. Andi Sandi Antonius Tabusassa Tonralipu, expressed that UGM is committed to being an inclusive campus. 
This commitment is realized by providing broad access to education for individuals with disabilities, economically disadvantaged students, and those from remote and underprivileged regions.
Yubita is evidence of UGM's dedication to providing dignified, tolerant, diverse, and inclusive education. 
"Thank you for the assistance provided to our students. We hope this collaboration doesn't stop here but continues," the secretary said.
Author: Ika
Photographer: Donnie