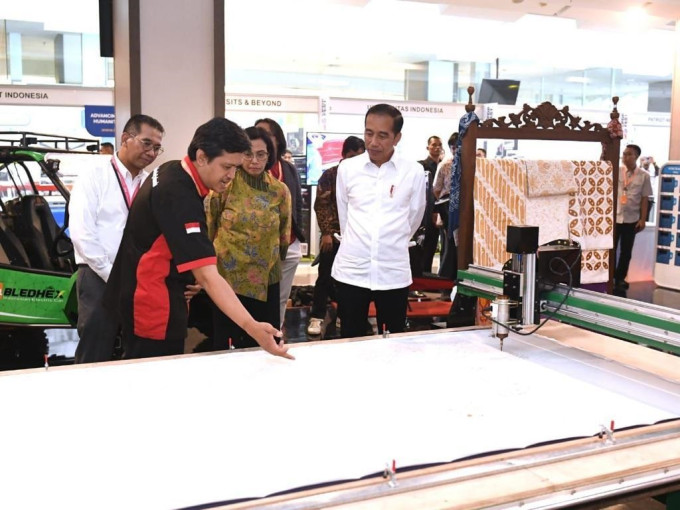 Hand-drawn batik is one of Indonesia's ancestral heritages that must be preserved and safeguarded for future generations. Creating it requires a relatively long time and involves complex steps.
Recently, Dr. Andi Sudiarso, a lecturer from the UGM Department of Mechanical and Industrial Engineering, had the opportunity to participate in a research fair organized by the Indonesia Endowment Fund for Education (LPDP) under the Ministry of Finance. 
The event occurred from August 1 to 3, 2023, in Jakarta, with the theme "Enlivening Indonesia, Advancing The Nation," reflecting the bright spark of Indonesia's progress. 
LPDP is committed to supporting, advancing, and building superior, high-quality human resources and education in Indonesia.
During this event, LPDP invited researchers from all over Indonesia to showcase the results of their research. 
The 2023 LPDP Festival featured various activities, including business competitions, an educational exhibition, a job fair, a research exhibition and seminar (research fair), cultural performances, conferences/talk shows, and the alum homecoming as the pinnacle event.
On this occasion, Dr. Sudiarso presented his research results on an automated hand-drawn batik machine that can produce batik quickly. This machine is called the Butimo 4.0 Hand-drawn Batik Machine. 
The President of the Republic of Indonesia, Joko Widodo; the Minister of Finance, Sri Mulyani Indrawati; the Minister of Education, Nadiem Anwar Makarim; and the President Director of LPDP, Andin Hadiyanto, attended the event.
Butimo offers several advantages, including its ability to work continuously for 24 hours, save on wax use, maintain the quality of the wax pen effect, retain high artistic value (expert judgment), support custom batik designs, and integrate with a real-time online system.
During the festival, Dr. Sudiarso also had the opportunity to showcase various creations made from fabrics produced by Butimo, including shoes, clothing, and original Batik Butimo fabric.
The innovation developed by UGM's research team is expected to support the government's efforts to preserve Indonesian hand-drawn batik, making it known internationally.
Source: UGM Directorate of Research