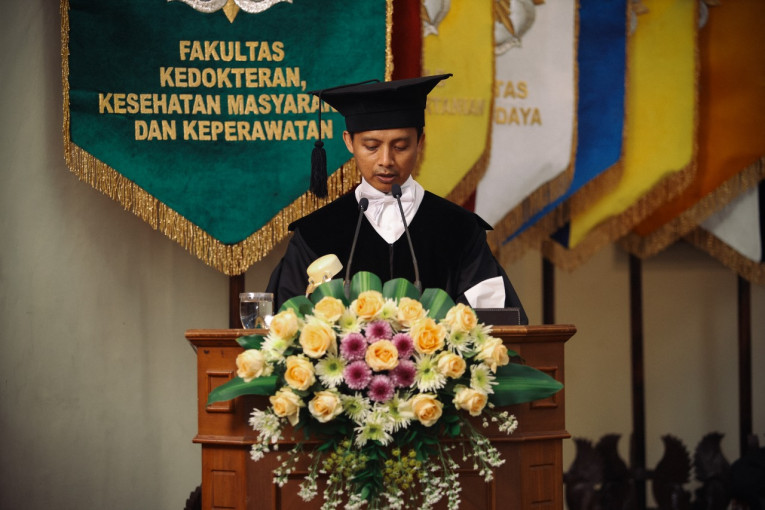 Hirschsprung's disease (HSCR) is a congenital condition significantly contributing to the mortality rate of newborns and children under five. HSCR causes bowel problems in infants.
One of the common symptoms found in babies with HSCR is the inability to have a bowel movement within 24-48 hours after birth. In toddlers, symptoms include chronic constipation, bloated abdomen, and growth disturbances.
"Hirschsprung's disease is most commonly found in newborns, with a global incidence estimated at 1 in 5,000 live births, and is more frequently found in males," pediatric surgeon Dr. Gunadi, MD, said in his inaugural speech as a new professor at UGM on Thursday, September 14, 2023.
"However, interestingly, the incidence of Hirschsprung's disease in Indonesia is higher than in other populations, estimated at 1 in 3,250 live births."
Professor Gunadi speculated that this condition is related to the higher frequency of common variants RET rs2435357 and rs2506030 in the control population in Indonesia compared to other populations.
His research shows that most HSCR patients in Indonesia fall into the short-segment classification, where the aganglionic segment does not exceed the sigmoid colon (80%). 
Furthermore, data from Yogyakarta showed that the frequency of HSCR accompanied by Down syndrome is 12 percent, and only one familial case was found among 67 cases.
The professor further explained that HSCR is a genetic disease. Several pieces of evidence support this, including that the survival rate of HSCR patients increased after the introduction of the pull-through technique in 1984, which allowed for the discovery of familial HSCR transmission. 
Additionally, there is an increased risk among siblings of patients to suffer from HSCR compared to the general population. 
Moreover, there is an imbalance in the HSCR ratio between males and females and a connection between HSCR and other genetic conditions such as malformation syndromes or chromosomal anomalies.
The genetic complexity of HSCR can be understood by studying molecular and cellular events during the development of the enteric nervous system (ENS) during embryogenesis. At least 35 genes are currently associated with the pathogenesis of HSCR.
"HSCR is a complex genetic disease that can lead to fatal complications such as Hirschsprung-associated enterocolitis (HAEC). Precision medicine for HSCR management can be achieved with risk stratification data based on genomics," he explained.
"This leads to improved awareness among parents of HSCR patients regarding the risk, early diagnosis, and therapy, ultimately avoiding fatal complications."
Author: Ika
Photographer: Donnie