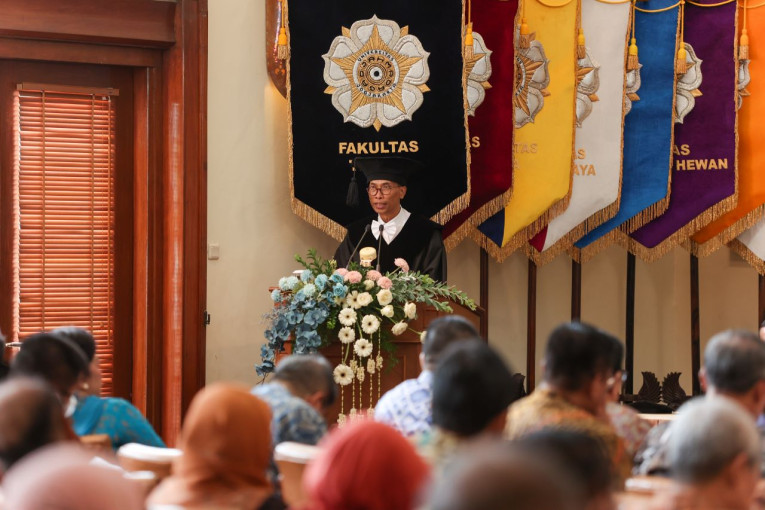 Statistics on internet usage as a medium for seeking and exchanging information are snowballing. Data from Statista shows that the number of internet users worldwide reached 5.18 billion as of early 2023, and social media users constitute the largest group accessing information through the internet, totaling 4.8 billion.
"The age group that spends the most time on the internet is those aged 15-24. The increased internet usage is due to technological advancements and widespread infrastructure that has made access to various media easier and more equitable," said Professor Paulus Insap Santosa during his inauguration as a professor of information technology on Thursday (6/7).
According to Professor Santosa, during the pandemic, the utilization of the internet gained momentum, leading to many areas of life relying on the internet. Digital transformation has become a necessity in almost all aspects of life.
On the one hand, technology brings significant benefits to society. Still, on the other hand, the development of internet usage in daily life also raises important issues of privacy and data security. 
Various privacy and data security cases have emerged, such as information theft, data breaches, online fraud, extortion (both individuals and institutions), ransomware attacks where perpetrators demand a ransom, and various other cases.
"Sometimes the target is a financial organization, but since it involves many customers, each customer's data and privacy must be protected. Thus, the matter becomes more complicated and complex when, for example, data is indeed leaked, and there is a possibility that the customers will be the biggest victims," he said.
Delivering a speech on "Digital Immunity System for Protecting Data and Privacy of the General Public in Society 5.0," the newly-appointed professor emphasized that the widespread and complex use of digital technology presents new challenges in digital security. 
This applies not only to organizations, governments, and industries but also to individuals, especially ordinary users and teenagers, who are currently active and represent many internet users.
He stressed that the technology platforms used must provide security facilities. Inappropriate user behavior or failure to follow proper security practices can increase the risk of digital attacks and threats, such as identity theft, data breaches, malware, etc.
"If we consider threats to privacy and data security as diseases, then we need to build a Digital Immunity System, especially for ordinary users and teenagers, to protect us all from various privacy and data security threats that are becoming increasingly sophisticated and varied, both in terms of methods and techniques," he explained.
He further explained that the Digital Immunity System (DIS) is a security system applied to computer-based systems to monitor digital activities and protect users from various malicious codes, such as malware, viruses, and hacker attacks. DIS operates on principles similar to the human immune system, which can identify threats, respond, and take necessary preventive actions.
In his view, DIS plays a crucial role in protecting privacy, particularly ensuring that personal data or information is not exposed to security threats, such as identity theft or information misuse. 
On the other hand, the implementation of DIS should also consider personal privacy and user privacy rights. An overly aggressive DIS monitoring digital activities can be counterproductive as it may jeopardize personal privacy.
"There are several high risks associated with an overly aggressive digital immunity system, such as improper security parameter settings, blocking inappropriate applications or activities, collecting information from application users without permission, resource-intensive operations, and dependence on other devices that increase security risks," he explained.
Author: Agung Nugroho
Photographer: Donnie