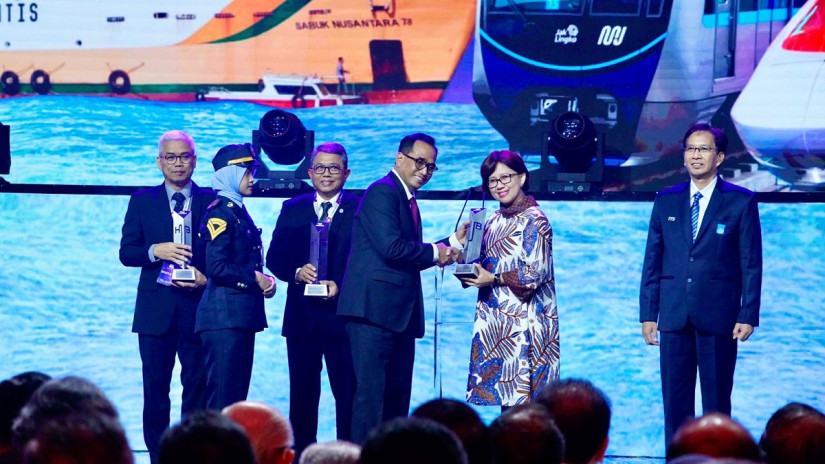 Professor Ova Emilia, the Rector of Universitas Gadjah Mada (UGM), has picked up an award at the Hub Space X KAI Expo 2023 for her contribution to developing connectivity and transportation in Indonesia.
The Minister of Transportation, Budi Karya Sumadi, presented the award to the rector at the Jakarta Convention Center (JCC) on Friday, September 29. 
"This award serves as both a trigger and encouragement for all UGM constituents to continue making positive contributions to the development of transportation in our country," said Rector Ova Emilia.
Rector Ova Emilia emphasized UGM's commitment to transportation issues, as evident in the various research projects conducted by UGM researchers. 
UGM's research efforts have significantly assisted the government in improving both private and mass transportation systems.
"We always strive for UGM to be a pioneer and an example of an environmentally friendly campus, including in the realm of transportation," she added.
UGM, as an eco-friendly campus, demonstrates its commitment to environmentally friendly transportation through initiatives such as campus bicycles and electric buses and the presence of research groups that have patented recycling technologies for processing lithium battery waste from various types of electric vehicles.
During the event, awards were also presented to several former Ministers of Transportation who contributed significantly to the national transportation sector. 
The awards were presented by the Coordinating Minister for Maritime and Investment Affairs, Luhut Binsar Pandjaitan, and the Minister of Transportation, Budi Karya Sumadi.
Former Minister of Transportation during President Soeharto's era, Emil Salim, emphasized the importance of connectivity in remote areas. Therefore, pioneering transportation modes are essential to connect the furthest regions of Indonesia.
Author: Satria
Photo: Istimewa