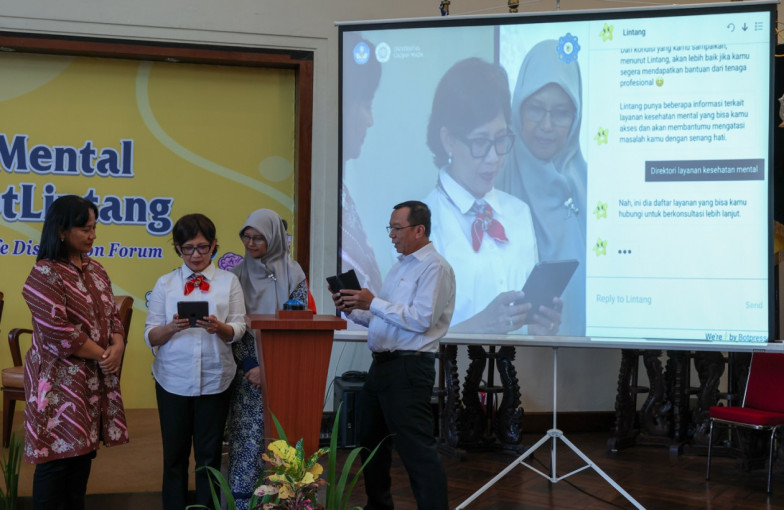 Universitas Gadjah Mada (UGM) is committed to becoming a comfortable, safe, inclusive, and socially responsible university. One initiative is developing a mental health platform called Lintang ChatBot to facilitate communication among all academic community members regarding mental health and violence-related issues.
Lintang ChatBot was officially launched by UGM's Rector, Professor Ova Emilia, MD, on Wednesday (26/7) at the UGM Senate Hall, concurrently with a Mental Health Seminar. During the event, the rector appreciated the creation of Lintang ChatBot to promote mental health within the UGM academic community.
"We welcome the innovation made by our friends in improving our well-being, especially mental health, by creating a communication space through Lintang ChatBot," she said.
The platform's presence is expected to provide a safe communication space for the academic community. This communication space ensures confidentiality and protects mental health and other violence-related issues. 
Furthermore, it aims to foster a caring, responsive community empathetic towards issues emerging in the academic environment, especially those affecting mental health.
The Vice-Rector for Education and Learning, Professor Wening Udasmoro, conveyed UGM's desire to create a healthy, safe, and inclusive campus, clearly stated in UGM's strategic plan for 2022-2027. 
Mental health is one aspect that requires joint attention, along with physical, social, ideological, and spiritual health.
"Every generation has the right to receive support in achieving health in all these aspects. UGM has provided facilities to support mental health, with psychologists in Gadjah Mada Medical Center, the Psychology Consultation Unit of the UGM Faculty of Psychology, and UGM Academic Hospital," she said during the Mental Health Seminar.
Professor Udasmoro stated that UGM continues to promote efforts to create a healthy campus, encompassing promotive, preventive, and curative measures. The development of the Lintang ChatBot by the UGM Health Promoting University (HPU) team is one of these efforts. 
Therefore, she appreciated the Lintang ChatBot and hoped it could support UGM's efforts to realize a healthy campus for all its members. This aligns with the Sustainable Development Goals (SDGs), particularly SDG 3, aiming to ensure a healthy and prosperous life for all.
The head of the Lintang ChatBot development team, Fatwa Sari Tetra Dewi, MD, explained that Lintang ChatBot is a communication channel facilitating interaction among individuals. LintangBot utilizes artificial intelligence to respond to keywords related to stress and anxiety symptoms.
LintangBot is equipped with several supporting features. One is a self-assessment feature to identify an individual's mental health condition. It includes a mental health services directory to guide users in connecting with professionals. Furthermore, it offers psychoeducation and practical tips for users.
The development of Lintang ChatBot was initiated due to concerns about the mental health and violence-related problems experienced by students, especially stress, anxiety, depression, and other violent cases that often impact students' mental and academic well-being. 
However, students often face difficulties finding safe and comfortable channels for sharing experiences, seeking support, and finding appropriate solutions.
"UGM, through the Health Promoting University (HPU) team, particularly the Literacy work group, actively seeks innovative solutions and new ways to communicate essential messages related to mental health and violence," she added.
Lintang ChatBot can be accessed via https://bot.ugm.ac.id/s/lintangbot by all academic community members, including lecturers, non-teaching staff, and students. With the presence of LintangBot, it is expected to serve as an alternative and safe consultation space, enable early detection of mental health problems, and enhance mental health literacy. 
With the chatbot's existence and an increased number of psychologists in faculties, schools, and GMC, academic community members experiencing mental health problems can find the best channels to address their mental health concerns.
The development of Lintang ChatBot involved collaboration between Fatwa Sari Tetra Dewi, MD, and the following parties:
Anis Fuad from the Department of Biostatistics, Epidemiology, and Population Health at the UGM Faculty of Medicine, Public Health, and Nursing (FK-KMK)
Bimo Sunarfri Hantono from the Department of Electrical Engineering and Information Technology at the UGM Faculty of Engineering
Dr. Diana Setiyawati, a psychologist from the UGM Faculty of Psychology
Dr. Pujiharto from the Indonesian Language Department, UGM Faculty of Cultural Sciences
Ariani Arista Putri Pertiwi from the Department of General and Emergency Nursing at the UGM Faculty of Medicine, Public Health, and Nursing 
Dr. Aditya Lia Ramadona and Vena Jaladara from the Department of Health Behavior, Environment, and Social Medicine at the UGM Faculty of Medicine, Public Health, and Nursing
UGM Center for Public Mental Health (CPMH)
UGM Directorate of Information Systems and Resources
The seminar held two sessions. In the first session, Dr. Lucia Maya Savitri from the Mental Health Promotion and Partnership Work Group, Directorate of Mental Health, Ministry of Health, spoke on mental health problems among productive-age individuals in Indonesia. 
According to her, mental health issues can affect all age groups, including the productive-age group, which will be a demographic bonus in the future. Therefore, creating mental resilience through mental health policy support on campus and integrated mental health services, healthy campus programs, and collaborations with other sectors is crucial. 
Collaboration is needed because mental health issues are not solely the health sector's responsibility but require active roles from other sectors and the community.
In the second session, the Inspector General of the Ministry of Education and Culture, Dr. Chatarina Muliana, discussed various efforts that higher education institutions can make to promote mental health in education. 
One of the recommendations is that university leadership should encourage preventing and handling violence. This includes developing violence prevention and handling programs within the campus environment, fostering healthy and equal relationships among students, lecturers, and educators, and periodically disseminating information about violence to the campus community.
Author: Ika
Photographer: Donnie