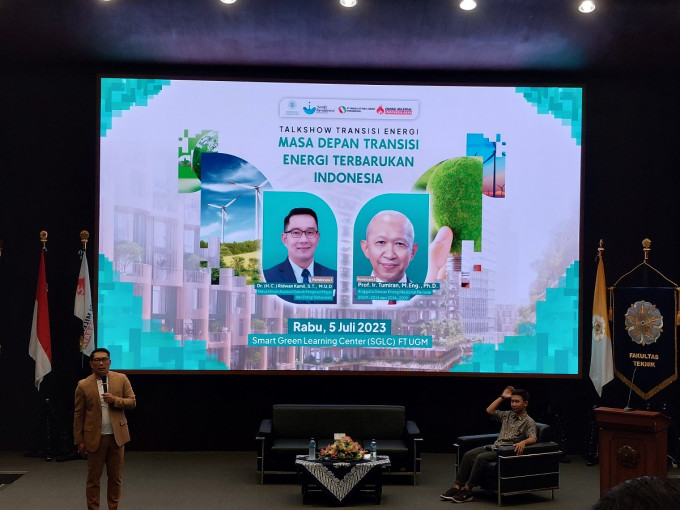 The Student Executive Board of UGM (BEM-KM) organized a talk show with the theme "The Future of Renewable Energy Transition in Indonesia" at the Smart Learning Center (SGLC) of the UGM Faculty of Engineering on Wednesday (6/7). 
The talk show featured Dr. Ridwan Kamil, the Association of Regions Producing Oil and Renewable Energy Chair, and Professor Tumiran, a Member of the National Energy Council for 2009-2014 and 2014-2019. The event was moderated by the current Chair of BEM-KM, Gielbran Mohammad.
During the event, Ridwan Kamil emphasized the significance of young people as the future generation of the nation in preventing increasingly dangerous climate change for the future if left unchecked. 
Dr. Kamil gave ten things that students can do to help protect the Earth:
Never stop voicing your thoughts to society.
Voice thoughts to the government.
Change the way you move (more productivity, less mobility).
Rein in your power use.
Change your diet from industrialized food to processed food.
Buy local products.
Don't waste food.
Practice (climate)-smart dressing.
Plant trees.
Focus on planet-friendly investments.
At the end of the session, Dr. Kamil delivered a closing statement, "Your future is your responsibility, and be a young person who provides solutions in the present and the future."
The event continued with the second speaker, Professor Tumiran, who discussed the "Economic Impacts of Energy Transition."
In this second speaker session, the professor explained the economic impacts from the perspective of labor or job opportunities during the energy transition and discussed the electricity resources in Indonesia, such as the national electricity infrastructure condition, electricity consumption in ASEAN and China, projection of national electricity needs, and the utilization of renewable energy in the national energy transition.
The event proceeded with a Q&A session involving students from Universitas Gadjah Mada and several high schools. Finally, the talk show concluded with a group photo session with the speakers.
Author: Athif