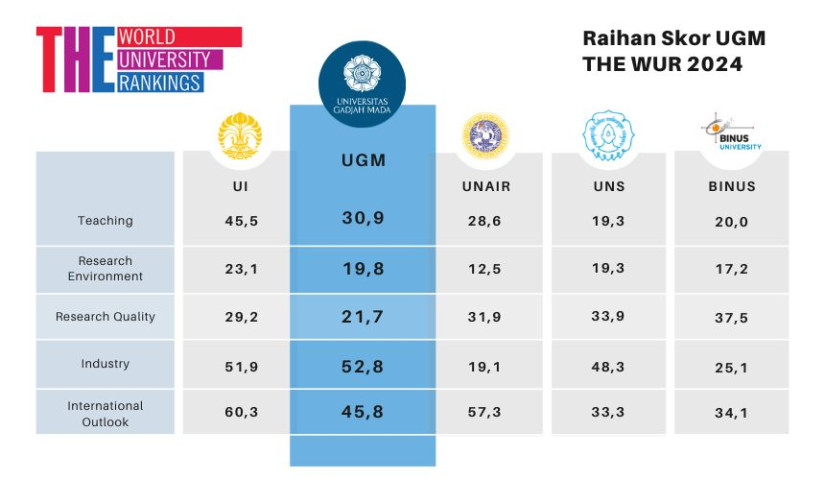 Universitas Gadjah Mada (UGM) continues to be among Indonesia's top universities and is the country's leading institution in industry assessment, according to the 2024 Times Higher Education World University Rankings (THE WUR).
UGM ranks second in Indonesia and 1201-1500 globally based on the overall score.
"Thank you to all those who continue to support and pay attention to the progress of UGM. Of course, we will continue to improve, not just to gain recognition but to make an impact," said the Rector of UGM, Professor Ova Emilia, MD, on Tuesday (October 3).
UGM achieved an overall score of 26.91, surpassing several other universities in the same category. 
This score is higher than the previous year's of 18.4 to 24.3. Similar to 2023, UGM's highest score is in the industry indicator. This year, UGM has also improved in the international outlook category.
THE WUR provides a definitive list of the world's best universities with an emphasis on research missions. 
The ranking uses 18 carefully calibrated performance indicators to measure institutions' performance in five areas: teaching, research environment, research quality, industry, and international prospects.
"Alongside the continuously evolving civilization, universities must also transform continuously to provide meaningful learning for students, preparing them for various future challenges," explained Professor Emilia.
"We are facilitating students to learn on and off-campus from professors, practitioners, and peers through many positive activities."
THE WUR is one of the prestigious university rankings conducted by Times Higher Education, alongside THE Impact Rankings, which measures universities' contributions to achieving Sustainable Development Goals (SDGs).
In the previously released THE Impact Rankings, UGM was among the top 50 universities globally contributing to SDGs 1, 7, and 9.
"UGM's mission, as mandated by its founders, is to carry out education, research, community service, and the preservation and development of excellent knowledge for the benefit of society," added the rector.
"UGM's contribution to achieving Sustainable Development Goals is evidence of the implementation of this mission."
While not the primary goal to achieve, according to the rector, university rankings are essential to gauge the extent to which universities have progressed in providing quality education and tangible impact on society. The rector invites all members of UGM and related stakeholders to play a role in UGM's progress.
"Our progress is not about chasing rankings, but seeing this as one form of evaluation for us is also important. Let us unite and work together for the UGM we love," she concluded.
Author: Gloria