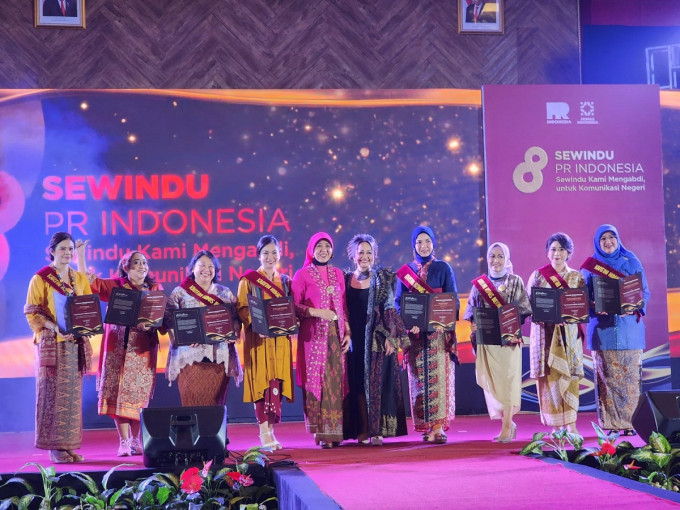 Dr. Dina W. Kariodimedjo, the Public Relations Coordinator at the Secretariat of Universitas Gadjah Mada (UGM), has picked up the Top 50 Indonesian Public Relations Kartini Award in the Higher Education category.
The award was announced during the 2023 Sewindu Night PR Indonesia held at the Casa Grande Ballroom, Merlynn Park Hotel Jakarta, on Thursday, September 21.
This event was part of the eighth-anniversary celebration of PR Indonesia Group under the theme "Eight Years of Service for National Communication." 
The Top 50 Indonesian PR Kartini Award was presented to women with exceptional public relations dedication. They have worked tirelessly with their teams to create and maintain a positive image for their respective institutions/companies, benefiting the wider community. 
The rigorous selection process involved experts and PR practitioners, resulting in 50 outstanding female PR professionals.
Dina W. Kariodimedjo expressed her happiness and gratitude for receiving this award. She was thankful for the opportunity to contribute to UGM's progress through her leadership. 
According to her, this achievement wouldn't have been possible without the synergy between the UGM Public Relations and all stakeholders. 
The hard work, dedication, and innovation of the UGM Public Relations team under the University's Secretary have continuously motivated her to be adaptive and solution-oriented in facing challenges that can arise at any time. 
She hopes that this award will inspire other high-achieving PR professionals at UGM.
"I feel truly grateful to God and extend my thanks to PR Indonesia and UGM's leadership," Dr. Kariodimedjo said.
"With all humility, I dedicate this award to my colleagues and friends at the UGM Public Relations Office and all PR professionals at UGM who have worked diligently and creatively. This award is an additional motivation to do even better."
Asmono Wikan, the CEO of PR Indonesia Group, highlighted how women's presence in public relations promotes equal opportunities and establishes PR as a strategic management function in the institutions where PR professionals work.
Ninik Rahayu, the Indonesian Press Council Chair, emphasized the close relationship between public relations and journalism. 
Effective collaboration is necessary for the communication process and the absorption of aspirations to ensure that an organization's interests are well conveyed to the public.
As the keynote speaker, Budi Arie Setiadi, the Minister of Communication and Information, urged all PR practitioners to align with the government's programs. 
Furthermore, he encouraged PR professionals to build a narrative of peace regarding the 2024 General Elections and the establishment of the new capital city, Nusantara, as part of the nation's progress.
"Let us realize peaceful, dignified, and high-quality elections as a measure of democratic maturity by creating a healthy digital space," he said.
Public relations is about increasing publicity and media relations and how PR professionals calmly handle crises and provide the best solutions to maintain their institution's positive image in the public's mind. 
The UGM Public Relations Office is expected to reflect UGM's values in daily behavior and believe that anything done with dedication and high spirit will impact many people.
Author: Conney