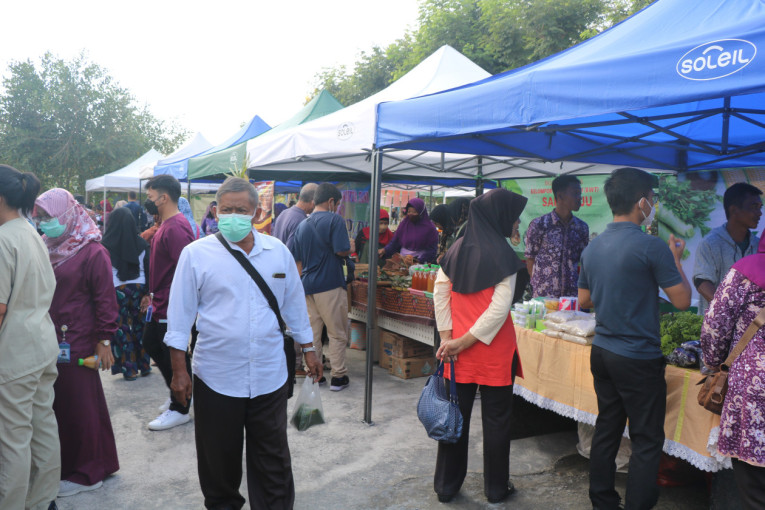 The UGM Academic Hospital has organized the second Krempyeng Market. While the first market edition coincided with the opening of the hospital's Neonatal Care Room, this edition introduced the Integrated Crisis Service Unit.
In addition to showcasing organic, local, and healthy foods for all hospital community members, the market offered free health check-ups for visitors aged >18, including anthropometric measurements, blood pressure, fasting blood sugar, cholesterol, and uric acid tests.
Director of Medical and Nursing Services at the UGM Academic Hospital, Ade Febrina Lestari, MD, explained that the Krempyeng Market is a regular event held by the hospital on Wednesdays each month. 
The hospital aims to encourage all its community members to consume organic foods through this activity.
"This is a market that features organic foods, selected foods in collaboration with various faculties, as well as Nutrihospita at the UGM Academic Hospital because they all provide healthy foods and beverages sourced from organic ingredients and produced at UGM, so this is from UGM for UGM," said Director Lestari on Wednesday (September 20).
Those present were sick patients and accompanying family members, and the Krempyeng Market was intended to be a popular activity that could make them happy.
For this edition of the Krempyeng Market, the hospital collaborated with Akademik Health System (AHS). 
AHS is a community that has long fostered villages capable of producing healthy traditional beverages such as black turmeric, rice with kencur, turmeric with tamarind, and so on. During each Krempyeng Market event, they always showcase their products to the public.
"This is the second time we've organized this event, and it's planned to be held regularly every month. The community, especially those in Kronggahan, where the hospital is located, can access it," she said.
Regarding the new Integrated Crisis Service Unit, Director Lestari explained that the unit is open to the entire Yogyakarta community. The Integrated Crisis Service Unit addresses physical and mental violence, sexual abuse, and more.
The director emphasized that mental health issues have become a national problem. This service is for everyone, including men, women, children, mothers, and fathers.
"It's for everyone and can be accessed at the UGM Academic Hospital. The Integrated Crisis Service Unit is a 24-hour service; they will be received in the Emergency Room area," she explained.
On regular working days, those needing the Integrated Crisis Service Unit services will be served from Monday to Friday from 8:00 AM until the end of the polyclinic service. The unit is in the Poli Srikandi 2 at the UGM Academic Hospital.
Patients will be handled by a team of forensic doctors, obstetrics and gynecology specialists, mental health specialists, and pediatricians, as well as laboratory and other specialists based on the specific needs of each case.
Director Lestari sincerely hopes continuous service innovation at her hospital will be launched alongside the Krempyeng Market. This indicates that the UGM Academic Hospital is constantly evolving in its services.
"The UGM Academic Hospital is growing well, but the challenge is that we need more inpatient facilities and larger buildings to address the community's healthcare needs better. We are also open to faculties that want to join the Krempyeng Market; we will provide stands for free," she concluded.
Author: Agung Nugroho