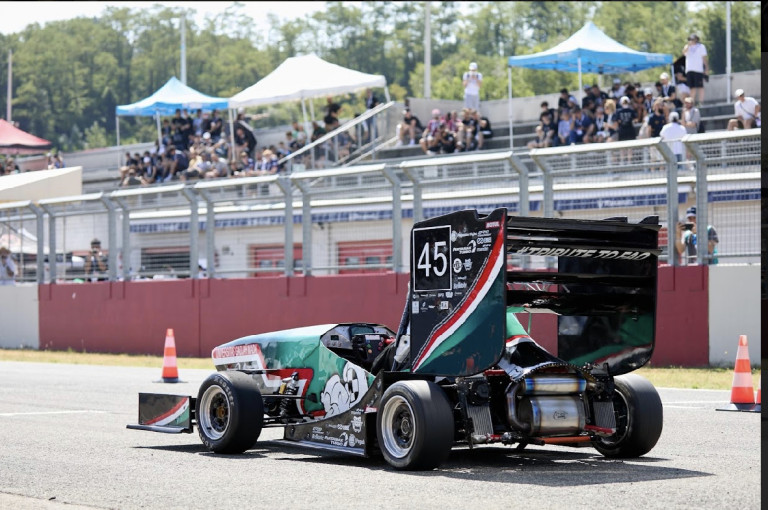 The Bimasakti Pegadaian Racing Team, a team of students from Universitas Gadjah Mada (UGM), has secured multiple awards at Formula SAE Italy, organized by SAE International and Associazione Nazionale Filiera Industria Automobilistica.
The team won 1st Place in the Business Plan Presentation, Top Eight Overall, Top Five in Endurance, Top Six in Acceleration, Top Five in Skidpad, and Top Five in Autocross.
Formula SAE Italy was held from July 12th to 16th at the Riccardo Paletti Circuit in Parma, Italy, featuring 78 Formula Student teams from various countries, including Italy, Spain, the United Arab Emirates, Iran, etc.
Team member Rizqia Dinda said winning first place in Business Plan Presentation took a lot of work, as they had to outperform 78 participants from various international universities with high levels of competitiveness and innovation. 
"However, once again, Bimasakti has proven that we are on par with Formula Student teams from around the world," she said on Tuesday (18/7).
Bimasakti surpassed Italian teams from Università di Bologna and Università degli Studi di Padova, setting a record as the Indonesian Formula Student team that won first prize two years in the Business Plan Presentation category. 
"We previously picked up the Business Plan Presentation award in the 2022 Formula Student Netherlands, and now we won it again in the 2023 Formula SAE Italy," she added.
The team's car had to complete all stages to reach the final. The first stage was the technical inspection, which determined whether the vehicle could participate in the dynamic event. 
Fortunately, the car passed this stage relatively quickly in only two days. The breaker test and noise test followed this. 
"In the static event, the car successfully passed stage 3 and advanced to the final round," she continued.
Achieving multiple awards, Rizqia believes that the success of the Bimasakti Pegadaian Racing Team would not have been possible without the dedication of the Technical and Operational Department and the support from sponsors and the university.
"Without the help and support from sponsors, Bimasakti would not have been able to conduct research, make innovations, and achieve success. During the competition, Bimasakti also received a lot of assistance from the Indonesian Ministry of Foreign Affairs, the Indonesian Embassy in Rome, and fellow Indonesians living in Italy, especially in Parma," she said.
According to Rizqia, this international achievement motivates the team to prepare well in research and innovations for the next generation of Formula cars. They hope to inspire the younger generation to continue their enthusiasm for innovation and bring pride to Indonesia.
Author: Gusti Grehenson
Photo: Bimasakti