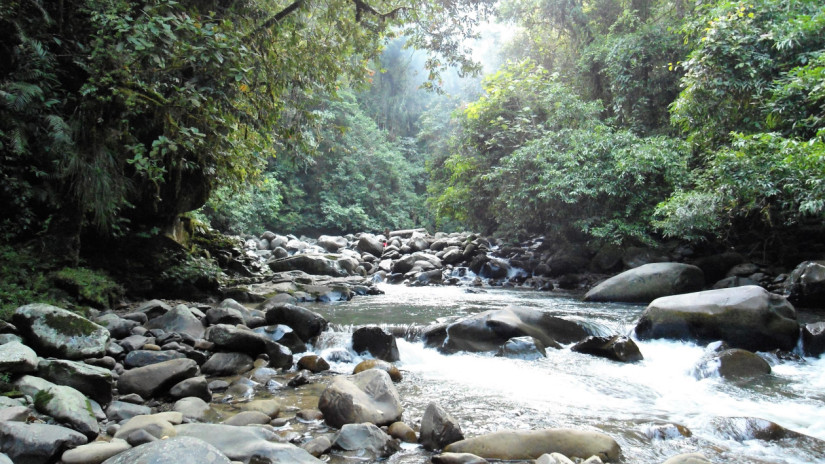 Collaboration and synergy among stakeholders, including the government, private sector, communities, academics, and the media, are essential for developing tourism in Malinau Regency, North Kalimantan Province. 
At the government level, synergy is expected to come from the central government, provincial government, regency government, district, and village levels. Collaboration within the government can take the form of cross-sectoral coordination.
This was stated by the Secretary of Malinau Regency, Dr. Ernes Silvanus, representing the Regent of Malinau, during the opening of the Final FGD on Review of the Regional Tourism Master Plan (Ripparda) on Wednesday (September 20). 
The focus group discussion was held through cooperation between the Department of Culture and Tourism of Malinau Regency and the UGM Center for Tourism Studies.
The event was attended by about 45 people from the North Kalimantan administration. UGM Center for Tourism Studies experts included Sotya Sasongko, Dr. Destha Titi Raharjana, and Wijaya.
In his presentation, Sotya Sasongko assessed that Malinau Regency has at least four advantages in terms of tourism. 
The first is the existence of Kayan Mentarang National Park (TNKM), the greatest portion of which is in Malinau. Second, this region is one of the regencies in the heart of Borneo (HoB) declared by three countries: Indonesia, Malaysia, and Brunei. 
Third, Malinau is also one of the border areas with Malaysia, with five out of fifteen districts bordering directly with the State of Sarawak, Malaysia. This strategic location offers opportunities for tourism development.
"Fourth, it has a cultural diversity of 11 ethnic groups. As a destination, Malinau is working to optimize tourism resources to create opportunities for increased regional and community income and employment opportunities," he said.
Wijaya added that Malinau Regency has over 90 tourist attractions across 15 districts. Bahau Hulu district has the most tourist attractions, with 13 attractions (15 percent). 
Malinau Utara has ten tourist attractions (12 percent), Kayan Hulu has nine tourist attractions (10 percent), and Malinau Selatan Hulu is the district with the fewest, with two tourist attractions (2 percent).
Of the total 90 tourist attractions, 74 objects (82 percent) are natural attractions, while 13 objects (14 percent) are cultural tourist attractions, and three objects (3 percent) are artificial tourist attractions.
"Among the 90 tourist attractions, there are several leading tourist attractions, including Setulang Village, Pulau Sapi Village, Tane' Olen Customary Forest, and Panas Semolon Waterfall," he explained.
The center proposed two strategic tourism areas. The first is Malinau City and its surroundings with the theme city tour, arts, and culture, supported by handicrafts and culinary stalls with tourism service centers in Malinau City. 
The second area is Pulau Sapi-Setulang and its surroundings with the theme of cultural tourism (village tourism), supported by adventure tourism, crafts, and culinary tourism with service centers in Pulau Sapi City.
Dr. Destha T. Raharjana offered the Vision of Malinau Regency Tourism 2024-2033: realizing Malinau Regency as a competitive and synergistic ecotourism destination, prosperous for communities, and sustainable.
According to him, ecotourism is the main focus in the development of tourism in Malinau Regency, considering that most of the area is a conservation area managed by TNKM, covering an area of 986,385 hectares out of a total area of 1,271,969.56 hectares.
"In this TNKM area, there is a wealth of unique Kalimantan flora and endemic fauna, such as the kingfisher, flying/vampire squirrel, and Bornean clouded leopard," he said.
Dr. Raharjana noted that Malinau has a cultural diversity inhabited by 11 native ethnic groups: Dayak Lundayeh, Kenyah, Kayan, Tahol, Tingalan, Punan, Abai, Berusu, Sa'ben, Tidung, and Bulungan. 
Malinau is also traversed by six major rivers, including Malinau, Sesayap, Bahau, and Kayan Mentarang. In his view, these rivers are attractions for challenging white-water rafting adventures.
Author: Agung Nugroho
Photo: Borneo Tour Gigant