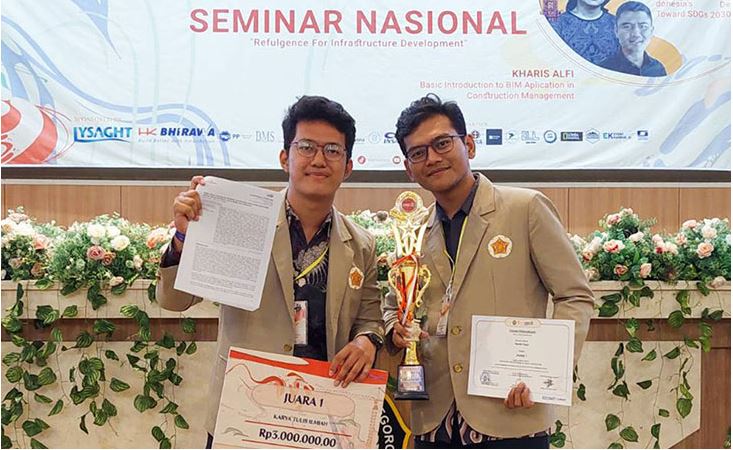 The Gadjah-AT team from the UGM Department of Civil Engineering has been named the winner of the 2023 Diploma Civil And Architecture Scientific Competition (DISCO) held at Diponegoro University.
The team, consisting of Naufal Fauzi and Felix Arion Sianipar and with the guidance of Dr. Intan Supraba, created an innovation titled "TERRE: Smart Integrated Drainage System With Greenwater Treatment" as a Solution for Flood Mitigation in Semarang City.
According to team leader Sianipar, the innovation emerged after observing frequent flood disasters in Indonesia, particularly in Semarang City. 
In essence, this innovation combines four main components: French drains, reservoirs, floating treatment wetlands, and the Internet of Things (IoT).
"These four components are combined to form an integrated and extensive rainwater treatment and management system that the community can utilize," said Sianipar at the Faculty of Engineering on Wednesday (5/7).
He explained that rainwater that falls on the ground is not immediately discharged into bodies of water but can be absorbed and collected first for later use by the community as clean water. 
With the presence of TERRE, the team hopes to reduce the potential for flood disasters within the community, minimize groundwater usage, and achieve four SDGs (Sustainable Development Goals), specifically SDGs 6, 11, 12, and 13.
Furthermore, he explained that the competition featured several selection stages. First, participants are given the opportunity and time to create an abstract of their scientific paper according to the sub-themes. 
Second, after the initial stage, the qualifying participants write a journal-style scientific paper to be evaluated by a jury.
From the jury's selection, the four best teams are chosen to advance to the final stage and make a presentation. 
This competition results in the publication of scientific papers in a journal under the auspices of Diponegoro University's Journal of Civil Engineering Projects (Potensi).
"The Gadjah-AT Team is extremely grateful to have brought the name of Universitas Gadjah Mada, especially the Department of Civil and Environmental Engineering. We are happy and proud of this accomplishment," said the team leader.
Author: Agung Nugroho