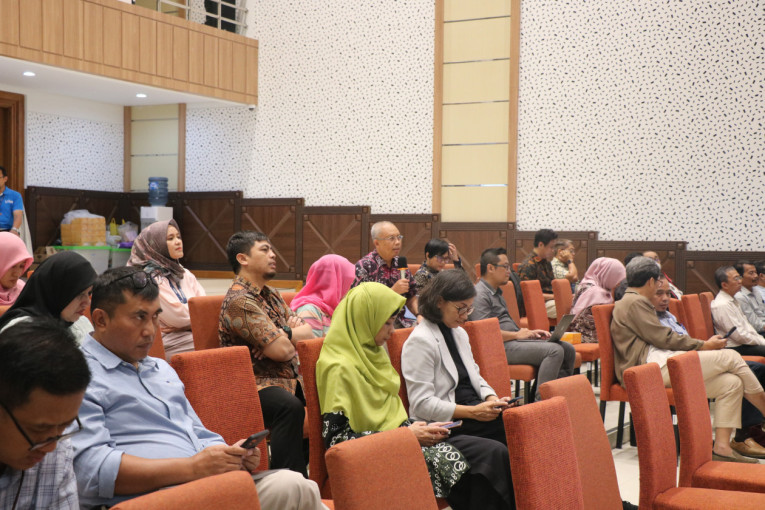 The UGM Directorate of Human Resources, in collaboration with the UGM Digital Transformation Bureau, organized the Program for the Development of Literacy, Culture, and Expertise to Support Digital Transformation at Universitas Gadjah Mada (UGM). 
The program aims to provide comprehensive knowledge about digital transformation concepts, focusing on initiating change from the human resources perspective.
The program, divided into two batches with two classes in each session, is expected to be attended by approximately 409 participants, including university and faculty leaders, managerial officials, coordinators within UGM, faculty/school administrative office heads, faculty/school coordinators, and representatives from faculties/schools/units.
Dr. Mardhani Riasetiawan, Head of the Digital Transformation Bureau, emphasized that the success or failure of the digital transformation process depends mainly on human resources, including factors like readiness, ability, critical thinking, innovation, and the willingness to take concrete steps. 
Digital transformation, he said, places human resources as the subject of the digital transformation process and positions them strategically as a long-term investment in the digital transformation process.
"Human resources need to be developed, enhanced, and actively involved in all digital transformation processes within their units," he said on Tuesday (September 26).
He explained that UGM's Digital Transformation Program focuses on developing digital literacy and culture and capacity building, skills, and future skills. 
Digital transformation in the context of human resources is seen as a process of cultivating a digital culture (mindset) by initiating a continuous literacy cycle that is expected to become a habit and an integrative work culture.
In tandem, this process will also influence the need for capabilities and capacities of human resources to execute transformative strategies. 
Therefore, a well-structured path/process for human resource transformation is required to address the need for literacy and digital culture development, capacity development, skills, and future skills.
"Of course, the program we develop and organize aligns with and supports the theme of UGM's 2023 Anniversary Celebration, which is 'Digital Transformation: Harmonizing Innovation and Humanity,'" he added.
The program is held in the form of structured training consisting of five modules: Starting Digital Transformation Module, Critical and Logical Thinking Module, Data Awareness Module, Digital Productivity Module, and Innovation Module. 
As of September 26, 2023, training has been conducted five times.
On Tuesday, September 19, 2023, the Starting Digital Transformation Module covering the topics of Definition and Concepts of Digital Transformation and Digital Transformation Components was presented by Dr. Romi Satria Wahono (CEO of BrainCorp). 
Other topics, such as Digital Transformation Business Processes and the Role of Human Resources in Digital Transformation, were delivered by Oscar Daniel Bakoro (Government Digital Transformation Expert).
On Wednesday, September 20, 2023, Oscar Daniel Bakoro spoke on the Data and Information Technology Module, and Dr. Mardhani Riasetiawan (Head of the Digital Transformation Bureau) led a discussion on Collaborative Digital Transformation Ideas Identification.
On Thursday, September 21, 2023, Dr. Dian Kesumapramudya Nurputra, MD, from the UGM Faculty of Medicine, Public Health, and Nursing, discussed the Critical and Logical Thinking Module with topics on Reasoning and Critical Thinking. 
Additionally, Adrian Choo Guang You (Sales Trainer – Field Enablement, APJ, AWS Singapore) delivered the Activation of Critical Thinking and Barriers to Critical Thinking.
On Friday, September 22, 2023, the Tools for Critical Thinking and Problem Solving Module was given by Professor Ridi Ferdiana (Director of IT) and was followed by Dr. Dian Kesumapramudya Nurputra, MD, on Collaboration with Critical Thinking.
The Data Awareness Module, with topics covering Data and Data Sources by Muchamad Agus Romansyah (Senior Solutions Architect AWS Public Sector, AWS Indonesia), became the highlight of the training on Tuesday, September 26, 2023, and Dr. Mardhani Riasetiawan concluded it with Data Types and Characteristics and Data Management discussions.
Author: Agung Nugroho