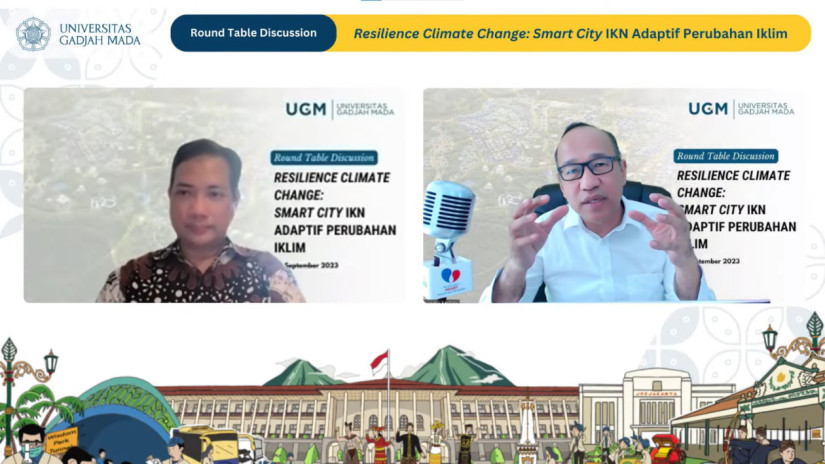 Universitas Gadjah Mada (UGM) is developing a multidisciplinary and transdisciplinary research center called the Institute for Future Life (IFL) as a tangible contribution to addressing climate change. 
The research conducted by IFL is expected to provide essential inputs to stakeholders, including in the development of Indonesia's new capital, Nusantara, in East Kalimantan.
UGM has organized a series of round table discussions (RTD) on various topics to gather expert input. The first discussion was held online on Friday (September 29) with the theme "Resilience to Climate Change: Nusantara Smart City Adaptable to Climate Change."
"The inputs provided will be very beneficial and are the first step in formulating practical proposals from UGM. Hopefully, from this discussion, we will get truly substantial results," said the Rector of UGM, Professor Ova Emilia, MD, in her opening remarks.
IFL is developing five main study and advocacy areas: Healthy Longevity and Biomedical, Environment and Biodiversity, Green and Blue Economy, Future Governance, and Inclusive Digital Society, aligning with UGM's commitment to supporting the United Nations Sustainable Development Goals (SDGs).
On this occasion, the rector revealed that several preliminary discussions had taken place to design UGM's efforts in addressing climate change, which is considered to threaten various sectors, including agriculture and food security, water supply, service infrastructure, and health.
"Hopefully, we can discuss various aspects of climate change, identify emerging issues, and start building interdisciplinary collaborations to develop further climate change interventions," explained the rector.
Regarding Nusantara, Rector Emilia stated that UGM needs to combine its strengths in multiple fields to produce comprehensive and valuable inputs. 
"Some of us in faculties and study centers have already contributed or formed special teams. We want to gather these experiences comprehensively so that we have proposals focused on UGM's strengths," she added.
Professor Muh. Aris Marfai, Dr. Wawan Mas'udi, Professor Widiyatno, and Dr. Andreasta Meliala, MD, were the four presenters for this conversation. Brief speeches from the four speakers were followed by discussions, the presentation of findings, and a list of next steps.
The Round Table Discussion will be followed by four further talks. A serial policy brief and a serial monograph on climate change resilience will be the discussion products from this series of activities.
Author: Gloria