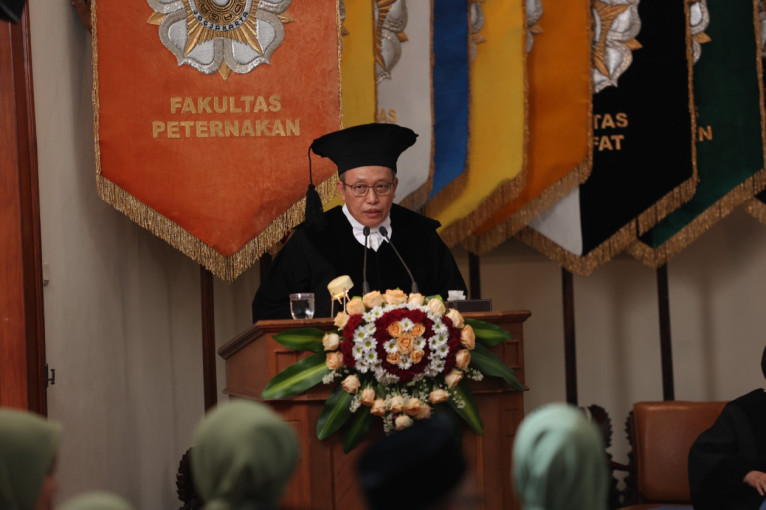 The area of oil palm plantations in Indonesia reached 11.2 million hectares in 2016. It then increased to 14.66 million in 2021 and 14.99 million in 2022, with a total production of 45.58 million tons or an average of 3.04 tons per hectare. 
According to Professor Bambang Suhartanto, a new professor at the UGM Faculty of Animal Science, the area of vegetation under oil palm plantations has the potential to provide feed for ruminant livestock by grazing. 
This is because the vegetation includes grasses, forbs, legumes, ferns, and other plants.
"Integration of cattle in oil palm plantations is a form of integrated farming where cattle utilize the inter-tree vegetation and by-products of the oil palm plantation industry," Professor Suhartanto said in his inaugural speech as a professor of nutrition and animal feeds on Tuesday, September 19, 2023, at the UGM Senate Hall.
Professor Suhartanto delivered a speech titled "System of Integration of Feed Crops and Oil Palm to Support the Production of Ruminant Livestock in Indonesia."
In the speech, he said that cattle and oil palm integration is an ideal form of integrated farming if land is provided for feed crops when the age of the oil palm trees is over five years.
Through rotational grazing of cattle under oil palm plantations, the cost of feed and maintenance can be reduced. 
"About 4 million cattle can be raised at a low cost," he said.
In addition to the potential of vegetation under the trees, he added, the by-products of oil palm plants can be used as feed for ruminant livestock. These include palm fronds and leaves and palm oil processing by-products such as palm oil sludge and palm kernel cake.
"On the other hand, for oil palm plantations, cow manure can be used as a source of nutrients to improve the fertility of the oil palm plantation land and control weeds," he said.
Professor Suhartanto believes that ruminant livestock is best raised by pasture grazing so that the animals can directly take the feed they want and need. 
However, not all livestock can be raised in grazing areas due to the limited availability of pasture land. As a result, grazing cattle in oil palm plantation areas is one of the options for achieving food self-sufficiency from livestock products.
Author: Gusti Grehenson
Photographer: Firsto