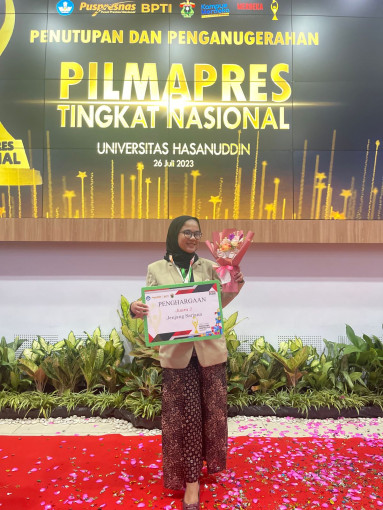 Schalke Anindya Putri, an international undergraduate in Economics at UGM Faculty of Economics and Business, secured first place in the 2023 National Outstanding Student Selection, held from July 23 to 26 at Hasanuddin University, Makassar.
A student of the 2020 cohort, Schalke became the most outstanding student after competing with 18 other top students from various regions in Indonesia. She had never imagined receiving such an honor as the best student in this prestigious event.
"I had mixed feelings when they announced that I won. I felt happy because I experienced success after facing various difficulties during preparation and studying. Still, at the same time, I felt it's a huge responsibility that I have to carry," Schalke said on Friday (28/7).
She mentioned that receiving such a title was never her life goal. From the beginning, she pursued her studies sincerely while still showing her best performance and exploring her potential.
"Alhamdulillah, I was entrusted with this extraordinary responsibility," she added.
Before being named the Most Outstanding Student in Indonesia, Schalke had to undergo a series of extensive selections, which began at the faculty level, competing with her colleagues at the Faculty of Economics and Business.
After being chosen as the faculty's representative, Schalke competed at the university level against other students from the 18 faculties at UGM.
Her efforts eventually paid off. Her hard work and dedication led Schalke to become the most outstanding in the undergraduate category at UGM, which qualified her to enter the selection at the regional level. 
"From the regional level, the three best candidates in each category were selected to advance to the national level selection, which was participated by approximately 90 students from undergraduate and diploma programs," she explained.
Next, 19 best undergraduate and 18 best diploma students were selected in the initial national level selection. All participants competed fiercely, presenting creative ideas, delivering speeches in English, and participating in panel discussions. 
After evaluations by the jury from various aspects, Schalke was finally chosen as the 2023 Indonesia's Most Outstanding Student.
During her presentation, she shared her ideas for Indonesia's 100 years of independence. Her vision for Indonesia in 2045 is to make the country a developed nation with outstanding human resources, a strong world economy, equal welfare, and robust governance. 
However, Indonesia still needs help in the labor market and the quality of its workforce. The INSPIRASI program aims to strengthen Indonesia's higher education system in curriculum, teaching staff, industry-academic forums, and data portals.
"The INSPIRASI program is hoped to improve the quality of university graduates, contributing to the production of the golden generation of 2045," she stated.
Schalke mentioned that she learned many lessons from participating in the Outstanding Student Selection.
"Through this selection, I learned that sincere intentions can lead to achievements. There were times when I felt like giving up, but I always went back to the main reason for participating in this selection, which is making a bigger impact on the surrounding community," she explained.
Moreover, one of the lessons she gained is to be her true self. By believing in and staying true to the values she holds, people will recognize and appreciate them.
"Don't be afraid to be who you are because we are all unique and special in our own ways," she concluded.
Schalke was an active participant in various competitions. She had taken home many awards and prizes before, such as being the 1st Winner of the Youth Innovation Challenge, ASEAN Youth Agenda (2023); 1st Winner of B20 Energy, Sustainability, and Climate International Essay Competition, SRE Indonesia (2022); and 1st Winner of the IIBD International Case Competition, Hong Kong Baptist University (2021).
In 2021, she picked up the 1st Winner of the Competition for Universities in Business & Economics (CUBE) at Prasetiya Mulya University, the 1st Winner of the 2nd IAF International Case Competition, the 1st Winner of StudentsxCEOs 10th Grand Summit Case Competition, and the 3rd Winner of the Innovative Business Leaders Case Challenge.
Author: Ika
Photo: Schalke