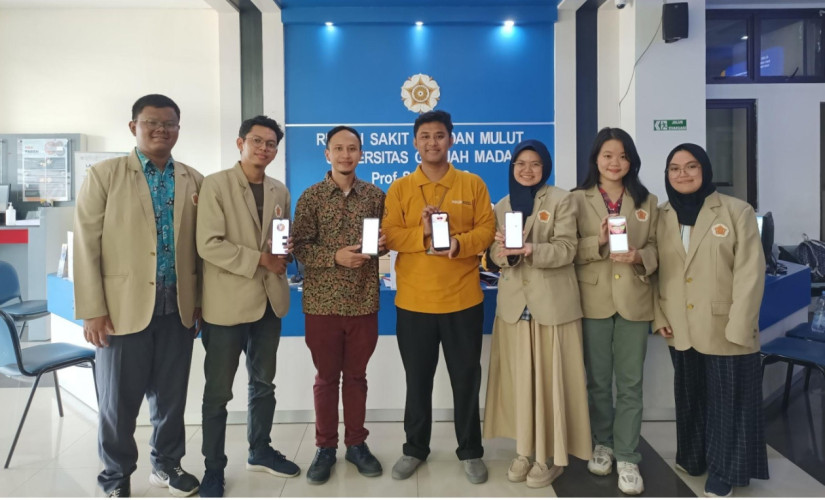 A team of UGM students has developed a mobile application called "Gigi Kecil," which features real-time dental caries detection using AI, augmented reality-based educational games, and a free consultation with professional dentists for children.
This app was developed by three UGM Faculty of Dentistry students, Dwina Aulia Ristyoningrum, Ariefa Nugrahany Nursalim, and Ribka Wijayanti Kusnardi, in collaboration with two Computer Science students from the UGM Faculty of Mathematics and Natural Sciences, Fitriansyah Eka Putra and Khoirul Anam.
The development was carried out under the guidance of Dr. Mohammad Fadyl Yunizar and funded by the Student Creativity Program for Technology Application from the Ministry of Education and Culture in 2023.
Dwina Ristyoningrum explained that Gigi Kecil is an Android-based application primarily aimed at real-time screening and identifying dental caries in children using AI.
The app also includes an "Ayo Belajar!" (Let's Learn!) feature, an augmented reality-based education tool to help young children understand the process of tooth decay.
"There are also Calendar, Reminder, and Chat features that will be integrated with the UGM Professor Soedomo Dental Hospital," Ristyoningrum added on Wednesday (October 4).
The app was tested during the opening of National Dental Health Month on September 12, 2023, at the UGM Faculty of Dentistry and Professor Soedomo Dental Hospital, receiving a high level of enthusiasm from the public, especially parents of child patients at the dental hospital.
Many parents were impressed with the app's features, especially the free consultation with professional dentists. Child patients also enjoyed the augmented reality games that the app offers.
"Professor Soedomo Dental Hospital employees also expressed that this app greatly helped them. They hope it can be fully integrated with the hospital's management system to streamline the healthcare system," Ristyoningrum said.
Ribka Kusnardi mentioned the development of this application began with the problems faced by Professor Soedomo Dental Hospital in providing dental care for children. 
Their dental health promotion activities were limited to Instagram posts and websites, with minimal educational content. 
Another issue was the discontinuation of treatment for child patients. Many patients would start treatment but then discontinue it midway. Dental health for children is crucial because baby teeth affect the development of permanent teeth.
With this innovation, Dwina Ristyoningrum hopes to increase public awareness of the importance of children's dental health. 
Additionally, it aims to reduce the discontinuation of healthcare treatment at Professor Soedomo Dental Hospital and support more efficient and effective dental and oral health services.
Ribka Kusnardi stated with Gigi Kecil, the Professor Soedomo Dental Hospital becomes the only dental and oral health hospital with a digital app.
"Through this application, we hope to improve the quality of dental and oral health for children in Indonesia," Kusnardi added.
The "Gigi Kecil" app is currently being added to the Google Play Store. However, anyone can download the app by visiting this link: https://linktr.ee/gigikecil.
Author: Ika
Photo: The Gigi Kecil team