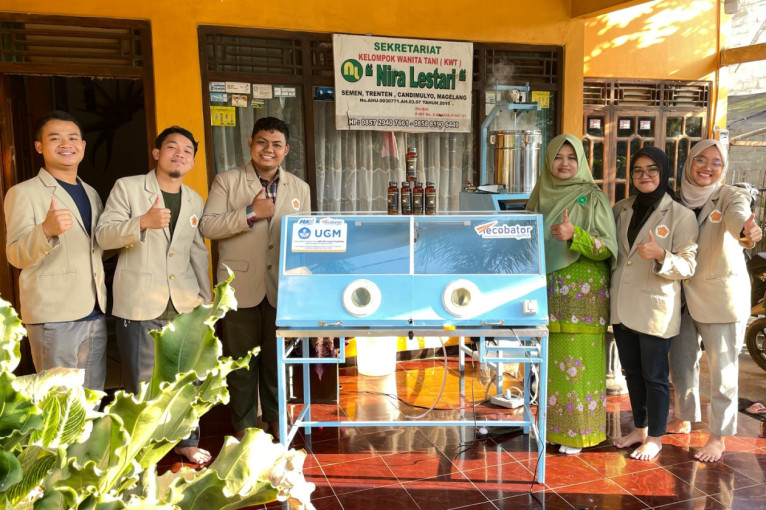 A group of UGM students has developed tools to improve coconut plant honey's productivity, quality, and shelf life: a coconut sap cooker and a sterilization incubator called Tecobator Gama.
These tools were born from the creative idea of Muhammad Haris Yulianto (Faculty of Agricultural Technology 2020), Yasmeen Afifah Nurbakhsy (Faculty of Mathematics and Natural Sciences 2020), Laila Mukarromah (Faculty of Mathematics and Natural Sciences 2020), and Fauzan Naufal Taqiy Susanto (Faculty of Mathematics and Natural Sciences 2022). 
Under the guidance of lecturer Mokhammad Fajar Pradipta, they developed these tools with funding from the Ministry of Education and Culture's Student Creativity Program in the Science and Technology Application in 2023.
Muhammad Haris Yulianto explained that these tools were initiated in response to the problems faced by a Micro, Small, and Medium Enterprise (MSME) run by the Women's Farmer Group Nira Lestari in Candimulyo Village, Magelang Regency, Central Java. 
The MSME, which obtained a Home Industry Food Production Certificate on January 21, 2016, produces various coconut-based products, including coconut plant honey. 
However, the production of coconut plant honey was still done manually, involving continuous cooking and stirring for about an hour, which posed a risk of high worker fatigue. The manual process also required repeated filtration due to environmental exposure during cooking in an open area.
"Not only that, the product packaging process is not very sterile because, before packaging, the coconut plant honey is left in an open area and placed in bottles in less sterile conditions," said Yulianto on Monday (September 11).
"This results in the contamination of microorganisms that can damage the product. Additionally, the partner complained that coconut plant honey products were prone to explode during the distribution process."
Yulianto and his four colleagues took the initiative to create a coconut sap cooker to facilitate the partners in stirring coconut sap during production. With this tool, production is carried out using vacuum pressure, allowing the heater to discharge steam to minimize water content and product evaporation. 
The sterilizer is divided into two parts: during the cooking process in the heating pan and a closed sterilization incubator using an ozone generator and UV light. 
After heating the product, it goes directly into the closed sterilization chamber for packaging, thereby minimizing and inhibiting the growth of microorganisms, including protozoa, fungi, bacteria, and viruses.
The student explained that using the cooking tool and sterilization incubator significantly improves work productivity. Initially, members of the Nira Lestari had to stir the coconut sap continuously for an hour, which caused fatigue. 
With one use of the tool, the capacity increased from the initial 10 liters of sap to 20 liters. Filtration is initially done manually multiple times (2-3 times); after applying the sterilization tool, filtration is only done once at the beginning of cooking. 
"The sterilization incubator, which includes additional UV lamps and an ozone generator, can maintain product quality and minimize microorganism exposure, increasing the shelf life from less than one month to more than one month," Yulianto added.
Nira Lestari Chair Yuni Setyaningsih expressed her gratitude for the presence of the cooking tool and sterilization incubator for coconut plant honey. Among other benefits, it reduces the workload for members.
As the cooking system is connected to the sterilization incubator, it can keep the product sterile. Laboratory tests have shown that it can improve product quality and shelf life.
"With these tools, we can increase the production of coconut plant honey, allowing the product to be distributed outside of Magelang Regency," Setyaningsih explained.
Author: Ika
Photo: Tecobator Gama Team