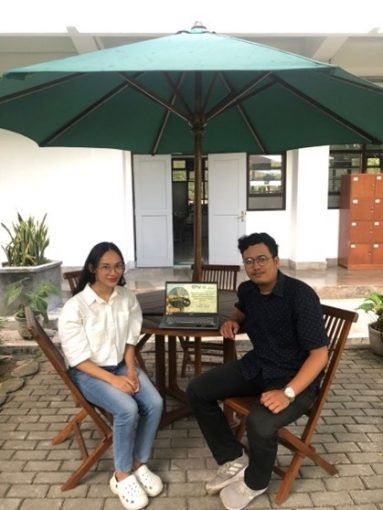 The Smart Agriculture Research team of the Department of Agricultural and Biosystems Engineering, Faculty of Agricultural Technology, has won the 2023 REEC Student Project Competition.
The team, consisting of Muhammad Allam Daffa and Bernadetha Grace Wisdayanti, achieved victory with their research project on the control system of evaporative cooling in a greenhouse under the guidance of Dr. Andri Prima Nugroho. 
As a result of their success, they have been allowed to participate in an internship at Chang Mai University, Thailand, to develop their project further.
Daffa stated that approximately ten teams from various universities in Indonesia participated in the competition. 
Out of all the teams, the top two were selected through several selection processes, including idea formulation, full paper writing, prototype development, and presentation.
In the competition, they presented a project titled "Evaporative Cooling Control System Based on Internet of Things (IoT) for Tropical Greenhouse: An Applied Technology for Climate Change Adaptation." 
This project discusses the application of IoT-based greenhouse technology to optimize environmental conditions and adapt to climate change in crop cultivation activities, especially in tropical regions like Indonesia. 
Implementing and developing technology in agriculture through smart greenhouses with a precision farming concept is crucial in the current era.
Daffa mentioned that this project emphasizes the implementation of appropriate technology based on IoT, which can serve as an alternative support for greenhouse structures. 
This is achieved through the conceptual design, system development, and implementation of control systems in IoT-based evaporative cooling systems within the greenhouse.
Dr. Andri Prima Nugroho hopes that students' interest and capabilities in developing their ideas and concepts can be enhanced through the internship program, which takes place from July to the end of August. 
Additionally, this program can provide broader benefits and support the development of knowledge and the implementation of technology, particularly IoT-based technology, in modern agriculture.
Author: Ika
Photo: Department of Agricultural and Biosystems Engineering