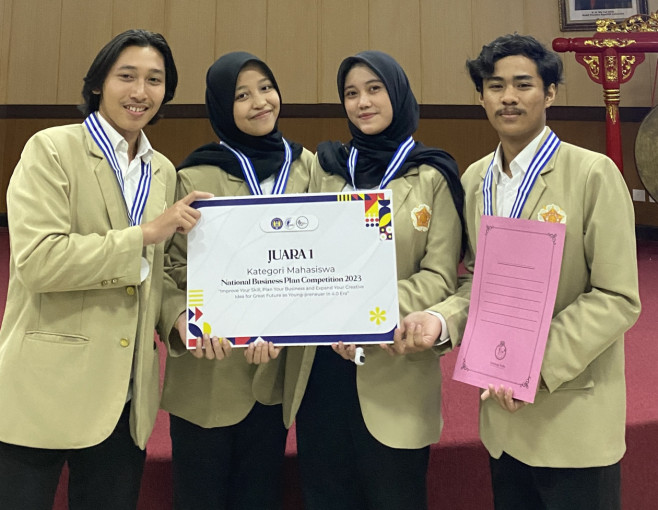 A team of UGM students consisting of Sulthan Mazru'l Nidhom (Faculty of Social and Political Sciences), Ferdian Dwi Saputra (Faculty of Cultural Sciences), Camila Qivtia Anggun Sukma Ningrum (Faculty of Social and Political Sciences), and Tiara Lintang Berliana (Faculty of Economics and Business) has won the National Business Plan Competition organized by the Entrepreneurship Student Unit of Yogyakarta State University.
In the competition, participated by 90 teams, the UGM squad offered a business idea for food waste management by utilizing BSF larvae to realize the concept of a Smart City in Yogyakarta. 
"We named this business idea SEMAR, which stands for Smart Food Waste Treatment and Recycling," said Tiara Lintang Berliana to journalists on Monday (3/7).
Berliana expressed joy and gratitude after her team was declared the first-place winner in this competition. 
"For us, this is a touching and proud achievement, and we are delighted to represent our alma mater through this championship," she explained.
Regarding the business idea they proposed, she stated that the business plan idea was motivated by their concern for environmental issues, especially waste management.
Furthermore, their business plan concept mainly utilizes information technology services through the SEMAR application as a waste collection service for food waste from the community, hotels, restaurants, and other sources.
The users will earn SEMAR Points, which can be exchanged for mobile credit, internet packages, and various products from Semar.
The food waste transacted through the application will be delivered to the maggot production center, where bioconversion will take place, for which the product can be used as feed for livestock/poultry. 
Meanwhile, the BSF fertilizer can be used as an alternative fertilizer or even compete in the organic fertilizer market.
"We hope that the impact on society will be significant, with the presence of an easy and beneficial waste collection service that sparks a self-reliant waste management movement, assists the government in managing food waste through maggot bioconversion, provides alternative fertilizer solutions, and offers quality animal feed through maggot pellets," she elaborated.
To become the champion in this competition, Tiara shared that she and her teammates were asked to create a business plan proposal in April. After the selection process, ten teams were chosen to present in the final round. 
"Alhamdulillah, we are grateful that our team became the first-place winner in this business plan competition," she expressed.
From the experience of winning this national-level business plan competition, Tiara and her team are motivated to participate in future business plan competitions. 
"We hope this experience can inspire and motivate our friends to realize their dreams," she concluded.
Author: Gusti Grehenson