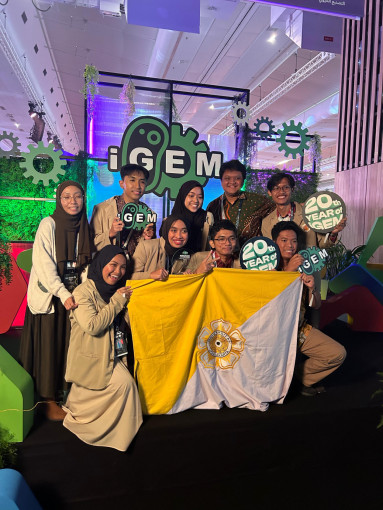 A UGM team won a gold medal at the 2023 Grand Jamboree-International Genetically Engineered Machine (iGEM) Competition held in Paris, France, from November 2 to 5, 2023.
They also brought home the Inclusivity Award and made it to the Top 5 Best Diagnostics Project. 
This achievement marks the first time in the 20 years of the iGEM Competition that a team from Indonesia has received a special award and made it to the best project nomination. Previously, in 2021, the first team from Universitas Gadjah Mada (UGM) took home a silver medal.
In this prestigious international competition in synthetic biology, the UGM team competed with more than 400 teams from 66 countries, consisting of high school students and undergraduate and graduate students from around the world. 
The iGEM Competition is organized by the iGEM Foundation, which originated from a summer school activity at the Massachusetts Institute of Technology (MIT) in 2003. 
In the two decades of the iGEM Competition, this event has inspired the creation of leading biotechnology studies, companies, and startups such as Ginkgo Bioworks, Asimov, and Benchling.
The UGM-Indonesia team was led by I Made Rhamandana Putra from the Faculty of Pharmacy. He and his team embarked on a diagnostic project titled "Novel Biodevice for Colorectal Cancer Screening using Escherichia coli Nissle 1917 (EcN) with miRNAs as Biomarker."
"We successfully engineered EcN bacteria to detect miR-92a and miR-21 as biomarkers for colorectal cancer cells and enhanced the sensitivity of the Loop-Initiated RNA Activator (LIRA) through mathematical modeling and computer simulations," he explained.
The team comprises students Dennaya Kumara (Pharmacy); Adhelia Intan Sabhira, Fathur Syahrian Ramadhani, Sofyan Maulana, and Ulfah Nur Azizah (Biology); Bagus Amartya Yudhananto, Farrel Alfaza Marsetyo, Nayaka Bagus Wahyu Agung Hertanto, and Ofadhani Afwan (Medicine, Public Health, and Nursing), Afra Majida Hariono, Kayla Queenazima Santoso, and Saddan Syah Akbar (Engineering); Melodia Rezadhini (Agriculture); Muhammad Bagus Sajiwo (Agricultural Technology); and Farrel Amroe Azhari (Mathematics and Natural Sciences).
They discussed with researchers, stakeholders, and government agencies and communicated with rural communities and colorectal cancer patients. They empowered the community with knowledge about colorectal cancer screening and related insights. 
Community empowerment was done inclusively by providing education to the local community, creating posters in various languages, publishing videos with sign language, and presenting research projects on a wiki page designed to be reader-friendly for those with low-vision conditions.
"This effort ultimately led the UGM team to receive the Special Award in the Inclusivity category," Putra added.
The success achieved by the UGM team is only with the support of various parties, starting from the Faculty of Pharmacy, Faculty of Biology, Faculty of Engineering, Faculty of Agriculture, and the university. 
In addition, the guidance of supervising lecturers, including Dr. Yekti Asih Purwestri (Biology) as the primary supervisor, along with Dr. Widhi Dyah Sawitri (Agriculture) and Dr. M. Saifur Rohman (Agriculture) as assistant supervisors, and Dr. Setyowati Triastuti Utami (Pharmacy) as an instructor, played a crucial role.
Author: Ika
Photo: The UGM-iGEM Team