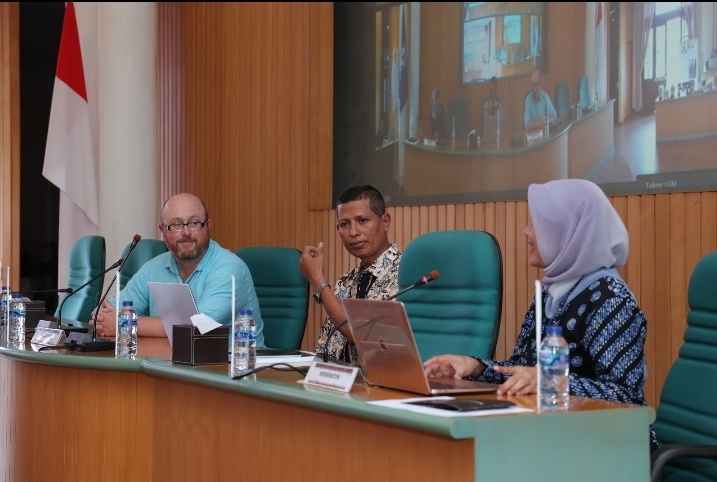 Universitas Gadjah Mada (UGM) received a visit from the University of California-Davis (UC Davis) on Tuesday (6/6) as part of establishing a Coffee Research Consortium between the Ministry of Research and Technology, UC Davis, and seven state universities in Indonesia. 
The seven universities are Universitas Gadjah Mada, IPB University, Syiah Kuala University, Jember University, Lampung University, Hasanuddin University, and Brawijaya University. 
UGM Director of Research, Professor Mirwan Ushada, expressed his gratitude for the willingness of coffee researchers from UC Davis to visit UGM. This visit is expected to encourage the initiation of research collaboration in coffee studies and build academic cooperation.  
"We have the same spirit of collaborating with both a single partner and multiple ones. Hopefully, we can exchange ideas and explore potential collaborations through this forum," he said. 
Professor Ushada said UGM had the same interest as UC Davis regarding the sustainability of research results. UGM always combines research with community service and educational activities. 
"Every year, we send students to do community service activities through the Student Community Service (SCS-CEL) in four periods. Of the various programs run, one of them is related to research on coffee," he explained. 
Annisa Yustia, Expert to the Special Staff of the Minister of Education, Culture, Research, and Technology, hopes this meeting can be a forum to explore various ideas on coffee research. In addition, the forum is expected to boost cooperation between universities in forming a coffee research consortium. 
"Hopefully, this forum can help foster exploration and collaboration," she hoped. 
UC Davis Coffee Center Director, William Ristenpart, explained that UC Davis Coffee Center is a multidisciplinary coffee research center formed in 2013 to address the challenges and needs of the coffee industry.
He said this visit was to prepare a coffee research field station in Indonesia. UC Davis offers programs for Indonesian students, including UGM, to explore the science and techniques of coffee. In return, UC Davis students can have the opportunity to study, harvest, and produce coffee firsthand in Indonesia. UC Davis is currently working to increase the recruitment of Indonesian students and prepare a 3+2 program in chemical engineering.
During this visit, the UC Davis team consisting of Professor Tonya Kuhl from the Department of Chemical Engineering, Professor William Ristenpart from the Department of Chemical Engineering, who is also the Director of UC Davis Coffee Center, and Dr. Irwin Donis-Gonzalez, Assistant Professor of Cooperative Extension in Postharvest Engineering, engaged in discussion with the UGM coffee research team led by Dr. Jumeri and some scholars with interest in coffee studies. On that occasion, UGM coffee products were also displayed. 
Before visiting UGM, the UC Davis team had visited IPB. The team is scheduled to conduct a field visit to Indonesia on June 3-14, 2023. Besides UGM and IPB, the team will also travel to Jember University and Hasanuddin University.
Author: Ika
Photo: Donnie