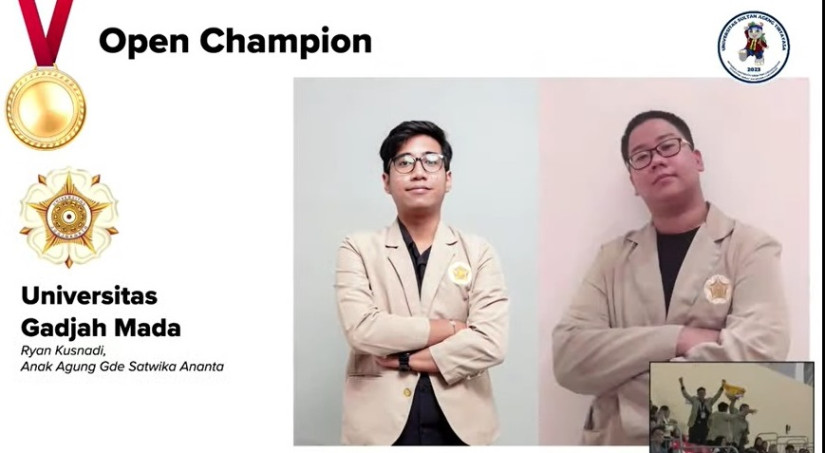 UGM students have won first place in the 2023 National University Debating Championship (NUDC), a national English debate competition.
Head of the Sub-Directorate of Student Creativity, Dr. Suherman, expressed pride in the achievement of the delegation of UGM to NUDC. He hopes this success will motivate other UGM students to excel in diverse fields.
"We hope this achievement can carry on," he said on Wednesday (14/6).
In the competition held at Sultan Ageng Tirtayasa University, Banten, from June 5th to 12th, 2023, UGM fielded a team consisting of two debaters, Ryan Kusnadi (Faculty of Engineering, 2020) and Anak Agung Gde Satwika Ananta (Faculty of Law, 2020), and one N1 adjudicator, Jason Valentino Samvero (Faculty of Law, 2021).
In addition to this victory, UGM delegates to NUDC also attained various individual accolades. Ryan Kusnadi picked up the 3rd Best Open Speaker, Anak Agung Gde Satwika Ananta the 8th Best Open Speaker, and Jason Valentino Samvero the 4th Best N1 Adjudicator.
This year's NUDC accepted 224 students divided into 112 teams from various universities in Indonesia. Puspresnas and LLDIKTI Regional Offices conducted the selection process. 
The debate format used the British Parliamentary system, commonly used in world-level intercollegiate debating competitions such as the World Universities Debating Championship (WUDC).
Author: Ika
Photo: UGM delegates to NUDC