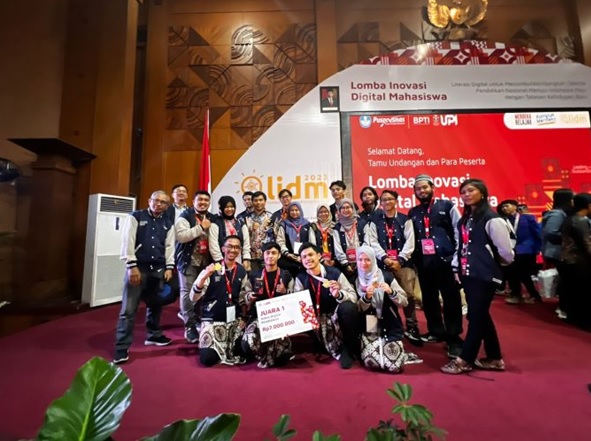 Universitas Gadjah Mada (UGM) won a gold medal at the 2023 Student Digital Innovation Competition (LIDM) from July 4th to July 6th, 2023. 
LIDM is an annual competition under the Ministry of Education, Culture, Research, and Technology, which has been held since 2020. 
This year, it aims to improve digital literacy among students and develop innovation in education and learning through the application of digital technology.
One thousand three hundred fifty-six teams from various universities registered for LIDM and were selected to be only 20 teams in the final stage. The UGM contingent successfully qualified as one of the 20 teams to compete in the final. 
"UGM qualified with one team in digital learning innovation, one in digital education videos, two in digital education posters, and one in digital microteaching," said contingent head Tamash.
The finalist teams are Better Off in digital learning innovation, Asikin Aja in digital education videos, Twin and Better Off in digital education posters, and Cakrabuana in digital microteaching. 
The team that won the gold medal was Asikin Aja, consisting of Adji Sainullah and Naufal Mumtaz from the Faculty of Geography and Muhammad Navi Nugraha and Amelia Dinda Savitri from Vocational College. 
They presented a work that tells how climate change can affect future life. Titled "Hamemayu," this work emphasizes the selfish nature of humans who often exploit nature without being accountable for its consequences, thus affecting the sustainability of nature for future generations.
The 5-minute digital education video conveyed an appealing story and had attractive packaging. Adji Sainullah and the team used the Javanese language to deliver advice and wisdom about nature, which captivated the judges. 
The victory of Asikin Aja contributed to UGM being the third university with the most gold medals in the competition.
The LIDM competition series has been held since April and culminated on July 6th. According to Tamash, the UGM contingent easily completed their task.
"There were no significant obstacles because we prepared everything well," said Tamash.
Author: Tasya
Photo: Directorate of Student Affairs