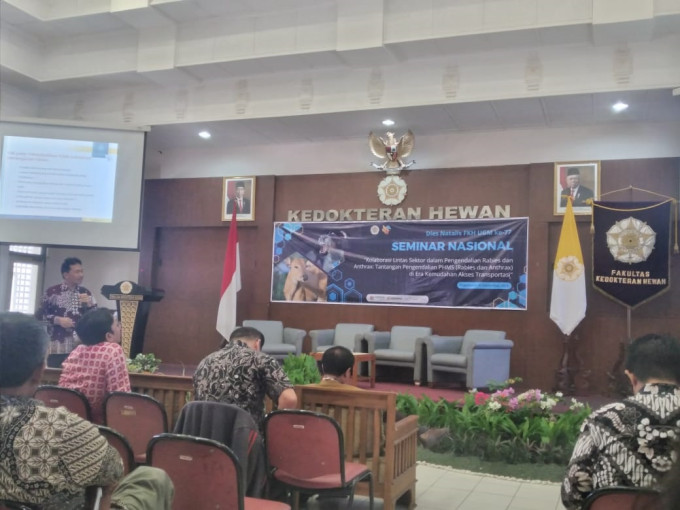 The World Health Organization (WHO) has declared that rabies and anthrax are neglected diseases that claim many lives. 
According to data from the Indonesian Ministry of Health, there were 11 deaths due to rabies, with 95% resulting from dog bites. These numbers highlight the urgency of addressing the rabies virus in Indonesia.
"When we talk about rabies, it's been around for a long time. If you look at the development of rabies cases, it remains relatively constant. However, this seemingly straightforward issue has become a problem for some reason," said Dr. Heru Susetya, a veterinarian and Faculty of Veterinary Medicine lecturer.
"According to the WHO, rabies causes 60,000 deaths per year. Rabies is a virus that can be controlled through vaccination. Still, its implementation is not easy."
Dr. Heru Susetya explained this in his address during a national seminar on "Cross-Sector Collaboration in Rabies and Anthrax Control: Challenges in Controlling Rabies and Anthrax in the Era of Easy Transportation Access" on Saturday, September 16.
Rabies virus transmission to humans is considered accidental, not primary. According to Dr. Susetya, when the rabies virus is in an animal's body, its lifespan is much longer than in a human body. 
When infected with the rabies virus, humans initially experience symptoms such as fever, weakness, loss of appetite, dizziness, insomnia, severe headaches, and a burning sensation at the bite site. 
These symptoms are often mistaken for common illnesses, leading many patients to avoid seeking treatment at hospitals or health centers.
Rabies-related deaths occur in almost all parts of the world, mainly in Africa and Asia. The virus is not limited to dogs and cats but is also prevalent in wild animals. 
"What's remarkable about rabies is its diverse distribution. It affects wild animals, domestic animals, and sometimes a combination. Epidemiological cycles involve at least two or three animals, including those close to us or domestic animals," added the veterinarian.
"Meanwhile, for wild animals, it's called sylvatic rabies. Controlling a country with urban and sylvatic virus distributions becomes more challenging."
The main challenge in handling rabies in Indonesia is the lack of public awareness about the dangers of rabies. Vaccinations, especially for urban rabies, are available and implemented in various regions. Unfortunately, out of the 34 provinces in Indonesia, only 11 are declared rabies-free. 
According to Imran Pambudi, MD, the Director of Disease Prevention and Control at the Indonesian Ministry of Health, the ministry has set a target to make Indonesia rabies-free by 2030 by creating herd immunity, requiring at least 70% of the dog population to be vaccinated.
"The highest rabies cases are found in Bali, but the highest number of deaths occurs in West Nusa Tenggara, Kalimantan, and Timor Island. Especially Timor Island, before 2023, they had never had rabies cases, so they didn't know what rabies was like," said the director.
"We are still investigating the source of the spread. Because handling rabies is not easy and people often seek treatment late, there have been 16 deaths reported so far."
Director Pambudi also explained the procedure for handling bites from rabies-infected animals. The wound area should be immediately cleaned with soap and running water for 15 minutes. Then, apply antiseptics such as alcohol to prevent the spread of the virus. 
If unusual symptoms, such as high fever, occur after a bite, seeking immediate treatment at the nearest health facility is recommended.
"Efforts to control rabies are also carried out regionally. Each local government must have rabies control and management policies in line with national policies," Director Pambudi added.
"The main problem with rabies control is the lack of operational funds, so the source of vaccines is still limited. In addition, public awareness of rabies vaccination needs to be promoted."
He hopes that collaboration between sectors and the community can help achieve Indonesia's goal of being rabies-free by 2030.
Author: Tasya