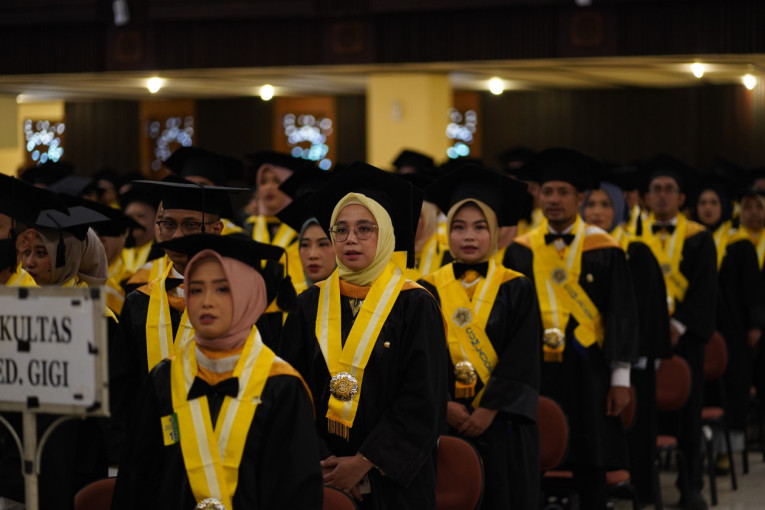 Four hundred two of the total 713 students (56.38%) at the recent postgraduate graduation ceremony of Universitas Gadjah Mada on Wednesday (26/7) were female.
Responding to the phenomenon of the high number of female graduates, cultural observer and lecturer from the UGM Faculty of Cultural Sciences (FIB), Dr. Daru Winarti, explained that the demands of the current era and the needs of life require women to be independent with a good position and income so that they can be more respected. 
According to her, one way to achieve this is through higher education.
"In Indonesia, the higher the level of education, the better the position of women in society's view and the job market, of course, without neglecting the attitudes and behaviors that are considered good by their community," said Daru on Sunday (6/8).
UGM appreciates the achievements of these female graduates. It cannot be denied that postgraduate students have varied statuses, with some already working or married. 
Their societal roles are diverse and complex, so balancing their responsibilities towards family and community while being a student and completing their studies on time is commendable.
Liza Angeliya, one of the doctoral graduates who achieved a perfect GPA of 4.0 and a recipient of the Ministry of Agriculture scholarship, also experienced a significant struggle in completing her studies.
"For me, managing time between family and studies is crucial. I already had a family with two children when I started my studies. Pursuing my Ph.D. at UGM was a scholarship obligation from the Ministry of Agriculture, so I needed to focus more on my studies and family," she explained. 
"During the four years of my studies at UGM, I brought my two sons along, and they transferred schools to Yogyakarta while my husband stayed in Lampung."
To graduate on time and with a cum laude distinction, Angeliya applied a study strategy by setting targets each semester. 
"The key is consistency; even if progress is slow and steady, it should be done step by step, and of course, with the blessing and support of my husband, who always encouraged me to continue studying," added the mother of two boys aged 4 and 8.
Angeliya faced numerous challenges throughout her studies, including dealing with the COVID-19 pandemic. 
Her perseverance paid off, and her dissertation titled "Molecular and Biological Fusion of Hemagglutinin-Neuraminidase Disease Genes Isolated from Chickens and Wild Birds" allowed her to graduate in 3 years and ten months, with two years dedicated to research.
Similarly, Aisya Galuh Laksita, a master's graduate in Civil Engineering with a perfect GPA of 4.0, faced challenges in her educational journey. Although not yet married, Laksita admitted to experiencing the ups and downs of balancing work and study. 
In addition to her busy class schedule, Aisya worked as an academic assistant at her department in the Faculty of Engineering, preparing accreditation and curriculum development and assisting professors with various tasks.
"I pay close attention to my professors during class, taking notes, recording the screen (during online classes), asking questions, and doing exercises assigned by the professors. I engage in discussions with my classmates outside of class," she said.
Aisya Galuh Laksita also set personal deadlines to ensure she graduated on time. 
"I set major deadlines and then break them down into minor deadlines," she explained. 
Major deadlines provided her with an overview of her timeline to ensure she stayed on track for departmental work, case studies, publications, thesis, final assessment, graduation, and more. The steps were further divided into minor deadlines, even specific hourly targets. 
"This approach helps me stay focused," added the Academic Atmosphere Enhancement Scholarship (PSA) recipient from the Department of Master in Civil Engineering, Faculty of Engineering, UGM. 
As proven, Aisya Galuh Laksita graduated with honors on time.
Source: UGM Directorate of Education and Teaching (Listi)