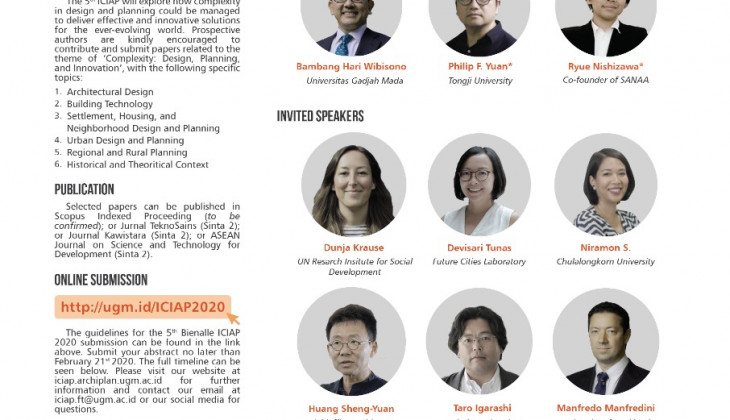 | | | |
| --- | --- | --- |
| Commite | : | Departemen Teknik Arsitektur dan Perencanaan UGM |
| Location | : | Kampus Departemen Teknik Arsitektur dan Perencanaan UGM |
| Kontak | : | 085800735736 |
| Website | : | iciap.archiplan.ugm.ac.id/ |
| Agenda | : | Thursday,23 July 2020 - Friday,24 July 2020 |
Industry 4.0 creates new unprecedented and unpredictable emerging technologies which influence the transformation of building, neighborhood, and urban system. The transformation process incorporates dynamic change allowing flexible intervention and management around architecture and planning systems. Working with these complexities requires innovative approaches, methodologies, and tools which can incorporate and utilize the inherent potentials of human and environmental transformation. These could support architects, urban designers, and urban and regional planners in managing transformation and intervening dynamics and adaptability within the system in a variety of ways.
The previous conference in 2018, 4th International Conference on Indonesian Architecture and Planning (ICIAP), explored the idea of 'Design and Planning in Disruptive Era' for critically examining the effect of disruptive innovation in design and planning, including but not limited to its application and policy response. In 2020, the 5th ICIAP will explore how complexity in design and planning could be managed to result in effective and innovative solutions for the ever-evolving world. The conference will also allow participants to discuss challenges and opportunities of the digitalization which often triggers innovation in the first place and its effects on architecture, planning, and governance. Prospective authors are kindly encouraged to contribute and submit papers related to the theme of 'Complexity: Design, Planning, and Innovation', with the following specific topics: (1) architectural design; (2) building technology; (3) settlement, housing, and neighborhood design and planning; (4) urban design and planning; (5) regional and rural planning; as well as (6) historical and theoretical context.
Abstract submission deadline (2nd call): February 21st, 2020
Notification of abstract acceptance: March 6th, 2020
Full paper submission deadline: April 24th, 2020
Notification of full paper acceptance: May 22nd, 2020
Early bird registration: June 5th, 2020